Jaylon Tate Arrested, Charged with Domestic Battery
Posted: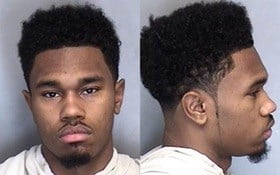 CHAMPAIGN - Illinois junior point guard Jaylon Tate was arrested Saturday morning, just hours after Illinois' third round exit from the Big Ten Tournament.
Tate was booked into the Champaign County Jail at 6:15am Saturday on a charge of domestic battery. His first court appearance is scheduled for 10:30am Sunday.
According to the Champaign News-Gazette, Champaign police Sgt. Bruce Ramsmeyer said a 19-year-old women, claiming to be Tate's girlfriend, admitted to police she was hit in the face by Tate, but declined to give any further information.
According to the report, Ramsmeyer said the officers could see the woman was spitting blood and had a swollen face.
Head men's basketball coach John Groce and athletic director Josh Whitman released a joint statement Saturday morning: "We are aware of the allegations against men's basketball student-athlete Jaylon Tate. Tate has been indefinitely suspended from all team activities pending legal proceedings and an investigation into the allegations. It is important that we take time to fully understand the events of last evening before passing judgment. We condemn domestic violence in all its forms and will move swiftly and decisively if these allegations are substantiated."
As this story unfolds, I don't know what happened, but I ask for everyone to pray for all parties involved. It's been a tough morning.

— Dee Brown (@deebrown11) March 12, 2016
This is Illinois' 2nd brush with the law in the last few weeks. Illinois forward Leron Black was arrested in February 20 for allegedly threatening a bouncer with a knife outside an Urbana nightclub. He was suspended from the team, and head coach John Groce has yet to comment on Black's long-term future at Illinois.