Martinez Talks Repeat, Rivalry Ahead of NCAA Wrestling Championships
Posted: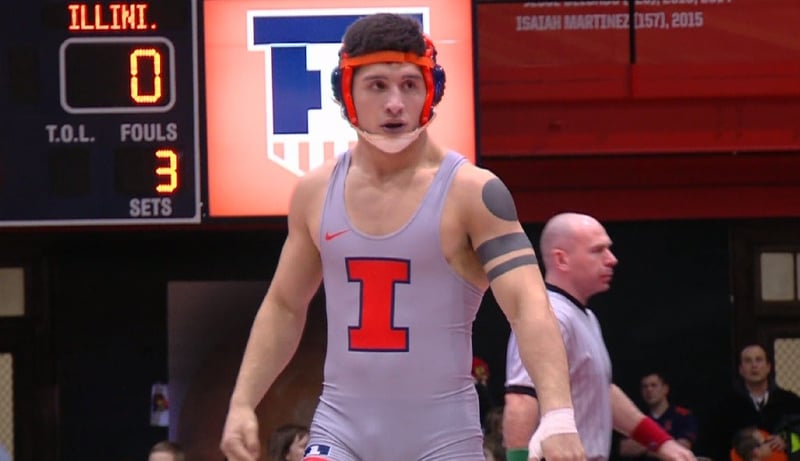 CHAMPAIGN -- Isaiah Martinez still thinks about being a four-time national champion.
The Illinois sophomore understands, however, he had better win the second one first.
"That first one's special," said Martinez, "I'd like to believe that (a second) would be more important, because I now understand how difficult it is."
Martinez is one of six wrestlers who will represent Illinois at the NCAA Wrestling Championships at Madison Square Garden in New York City.
As the 157 lb. 1-seed, Martinez will be favored throughout the week, but he understands, he's not as untouchable as he once thought.
He enters the tournament no longer undefeated. He now has one measly collegiate defeat -- at the hands of then 3rd-ranked Penn State Freshman Jason Nolf.
Nolf pinned Martinez midway through the second period of a conference match in January, ending a 54-match win streak to open Martinez's career.
"Everyone talks about a sophomore slump, and how hard it is to repeat," said Martinez. "I really understand now how hard it is to keep that focus."
Illinois wrestling coach Jim Heffernan said Martinez was clearly consumed with the build-up toward the first meeting, and immediately following, consumed with the idea of a rematch.
"I was a little too anxious, I guess, the first time," said Martinez. "The first time I went in without any match strategy, maybe overestimated my abilities a little bit."
"I think his gameplan was a little bit suspect going in," added Heffernan. "I think he was so excited. He thought he could get everything he needed to get done in the first three minutes."
Martinez and Nolf met again in March, not surprisingly in the Big Ten 157 lb. championship. Much calmer, and much more focused on fundamentals, Martinez got his revenge, edging the Penn State freshman for a Big Ten title.
"He was more himself in terms in getting in position, keeping his stance," said Heffernan. "The basics were a lot more evident."
Wouldn't you know it, Nolf (3) and Martinez (1) are both high seeds in this week's tournament, and based on where they are in the bracket, the only place they could meet is in the national championship.
That's already on the mind of Illinois' star wrestler, who joked it's Nolf's turn to make post-loss adjustments.
"Something that defines a great athlete is having a great rivalry during his career," said Martinez. "He's only a freshman so, we'll probably battle it out a couple more times."
The opening rounds of the NCAA Wrestling Championships begin Thursday morning. Find results and bracket information here.