Illini Scored Eight Unanswered to Beat Illinois State in Normal
Posted: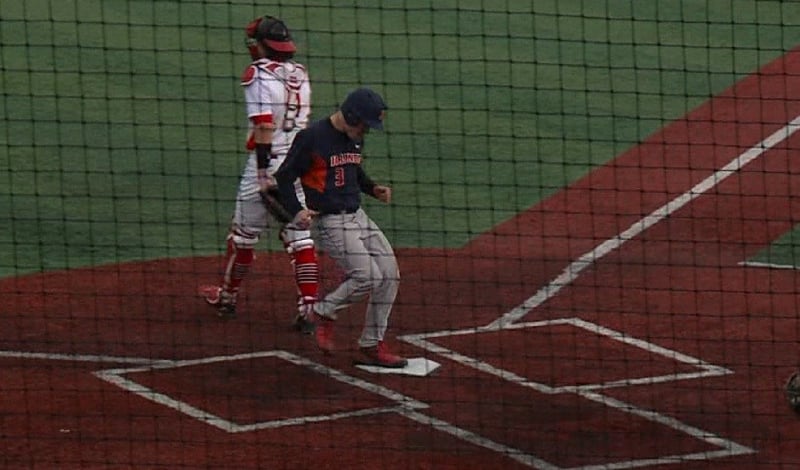 CHAMPAIGN, Ill. - Freshmen Jack Yalowitz and Doran Turchin combined for four hits, four runs scored and three RBIs to lead the Illinois baseball team to a 8-3 win Tuesday at Illinois State. The Redbirds opened a 3-0 lead but Illinois charged back and the Fighting Illini bullpen held ISU scoreless in five innings of work.
"I was really pleased we were able to bounce back after a tough inning," said head coach Dan Hartleb. "Our guys did a great job of getting some runners on base and we got some big hits."
Illinois (8-10) rebounded from a three-game losing streak by scoring five times in the top of the fourth, tying its highest scoring inning of the season. Turchin had an RBI single, Yalowitz drove home two with a line-drive knock, Trent Hammond singled through the left side for a run and Adam Walton lifted a sac fly to center field in the go-ahead frame.
Matthew James started on the mound for the first time in his collegiate career in his hometown of Normal, Illinois. He struck out six in 4.0 innings, but surrendered three runs in the third as Illinois State took the early lead. After Illinois plated five in the next half inning, James pitched an easy fourth and the bullpen took over in the fifth through the ninth.
Charlie Naso (1-0) earned the first win of his career. He was first out of the bullpen and went 3.0 innings while allowing only two hits and striking out three. Nick Blackburn finished off the Redbirds with two scoreless frames.
Mark Skonieczny added a two-out, two-RBI single in the eighth inning to add insurance to the Illini lead. An Illinois State error led to another Illinois run and capped the scoring.
Turchin and Yalowitz each ended the day with two hits. Yalowitz added two steals.
Illinois opens its home schedule with its first Big Ten game Friday at 6 p.m. CT at Illinois Field. The first 250 fans will receive 2015 Big Ten champions pennants before the Illini face Penn State.