Illini Baseball Readies for Conference Opener After Inconsistent First Month
Posted: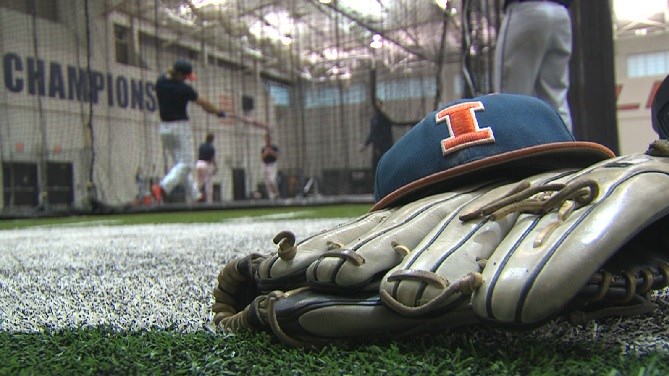 CHAMPAIGN -- For the first time since losing to Vanderbilt in the super regionals last June, the Illini baseball team will play a home game when they welcome in Penn State Friday night for the Big Ten opener.
"Just to be able to sleep in your own bed and have a little routine, come into your home locker room and have your home crowd, it's exciting," Head coach Dan Hartleb said. "I know our guys will be excited to come out and play tomorrow."
It's been up and down for the Illini so far this season. After a 6-3 start the team has lost 7 of 11, already equaling their total number of losses from last year.
"The thing that we've struggled with is a lack of consistency. A lot of that has to do with the fact that guys have tried so hard. Some guys are pressing. We've talked a lot about relaxing. Control the things that we can control. We've made progress in a lot of areas." Hartleb said.
Some bright spots from the first month of the season include a 5-2 win at 19th ranked Tulane, a three game sweep at the Stetson Invitational, and most recently an 8-3 win at Illinois State Tuesday.
"We have the ability to be really good, we've shown flashes of excellence," Shortstop Adam Walton said. "The last two weeks haven't been exactly what we wanted, but we've seen our pitching be really strong. We've seen our hitting be really strong. If we can just put all those things together I think we can be a very dangerous team."
After getting off to a slow start, Penn State (9-10) has won four straight. First pitch is scheduled for 6 pm on Friday.