Illinois AD Josh Whitman: "John's Going to Continue to Be our Coach"
Posted: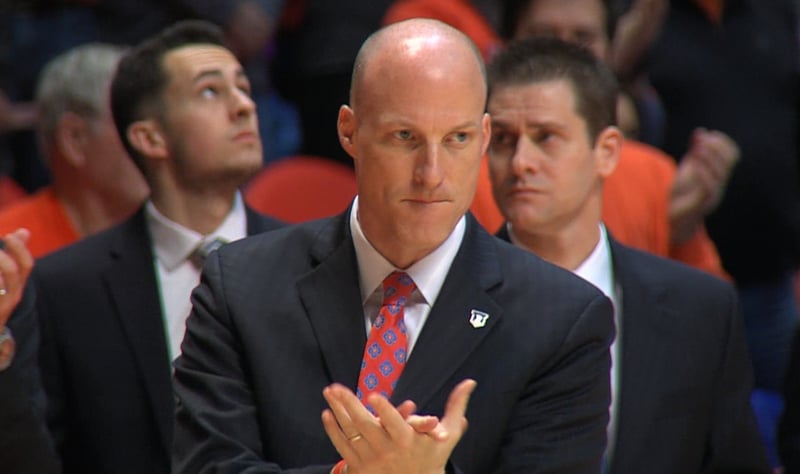 CHAMPAIGN -- Josh Whitman's short tenure at Illinois has been nothing if not definitive.
Thursday, with Illinois men's basketball coach John Groce next to him, Whitman addressed the arrests of a few Illinois basketball players, and the status of their coach.
"I hope people realize that we're taking these allegations very seriously," said Whitman, "but also that John's going to continue to be our coach."
"He gives me great confidence that we'll be able to build this going forward."
That vote of confidence comes just weeks after another from Illinois' new athletic director. However, since the first, Champaign Police arrested two players -- Jaylon Tate and Kendrick Nunn -- due to two separate domestic violence accusations.
Thursday morning's rather ambiguous announcement, for a joint press conference with Groce and Whitman, certainly raised a few questions among the Illinois fanbase. Whitman made clear, the event was simply to "quell speculation."
"This is how I operate," said Whitman, who's already replaced the head football coach in his short time on the job. "If there's an issue, we'll get out and talk about it."
Whitman, while refusing to comment on the allegations, compared the role of a coach to that of a parent.
"We recognize that on occasion, (our kids) may make the wrong (decisions)," Whitman said. "When a kid does that, it doesn't make a parent a bad parent."
The allegations are quite serious in nature - both Nunn and Tate are accused of hitting women during incidents in Champaign in recent weeks. Both are facing domestic battery charges.
In February, Leron Black was arrested for allegedly pulling a knife on a bouncer at an Urbana night club.
In August, Darius Paul was arrested while Illinois was in France for some pre-season international competition. It was his second arrest in two stints with the program.
With the vote of confidence from his boss, Groce said his job is to continue to find ways to encourage better behavior, especially during the hours they're not with the team.
"We spend a great deal of time with our players educating them on choices," said Groce. "We will discipline players, if substantiated."
Both Whitman and Groce repeatedly pleaded for patience, and to let the legal process play out.
"Am I concerned? Yes. That's why we're here today. Antenna's up," said Groce often defending the culture of the men's basketball program. "It's hard for me to take three alleged incidents and lump them into the whole."
Groce's team missed the NCAA tournament for a third straight year this season - the first time that's happened at Illinois since 1980.