Sedlock Shuts Down Nittany Lions to Lead Illini in Big Ten Opener
Posted: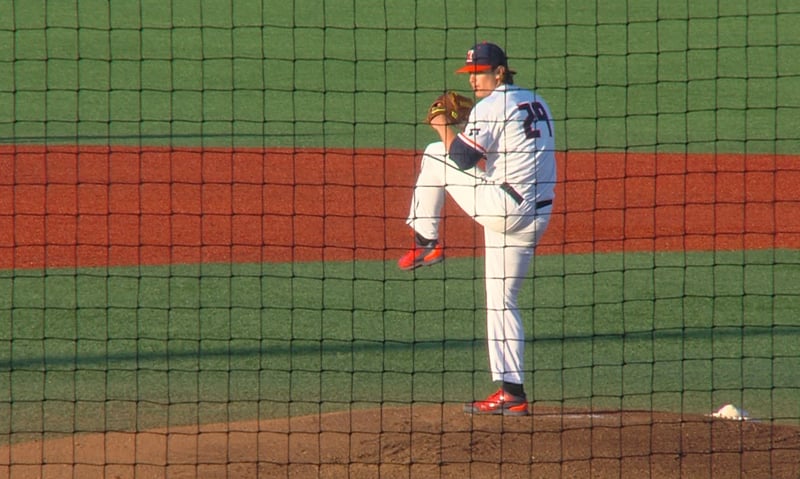 CHAMPAIGN, Ill. - Cody Sedlock matched career highs Friday with 7.0 innings pitched and 10 strikeouts to lead the Illinois baseball team to a 5-0 win over Penn State in the Big Ten and home opener. Charlie Naso struck out three more Nittany Lions over the final two innings, as the Fighting Illini cruised to their 21st consecutive regular season conference win dating back to 2015.
Sedlock (4-1) allowed just three base runners to reach scoring position all night. He threw 95 pitches, including 65 for strikes, while allowing only four hits in his second double-digit strikeout performance of the season.
Illinois (9-10, 1-0 Big Ten) spotted Sedlock a four-run advantage in the bottom of the first inning. The Illini used two hit batters, three singles and a Penn State error to gain the early lead. Anthony Drago, Doran Turchin and Jack Yalowitz had RBIs in consecutive at-bats, which included infield singles by Drago and Yalowitz.
Yalowitz ended the night 2 for 2 with two walks and Drago also picked up two hits.
Trent Hammond added a single up the middle in the third.
Penn State (8-11, 0-1 Big Ten) managed only one runner to second base once Sedlock was removed. Naso, the only reliever the Illini used, pushed his season innings total to 7.0 without allowing an earned run and saved the bullpen ahead of tomorrow's doubleheader.
Taylor Lehman (1-5) took the loss for the fifth time in 2016.
Illinois and Penn State will play 11 a.m. and 3 p.m. games tomorrow. The scheduled was altered due to forecasted inclement weather on Sunday. Tomorrow's 3 p.m. game will be aired on Big Ten Network.