Lovie Smith Ready for Spring, "Anxious to Get on the Football Field"
Posted: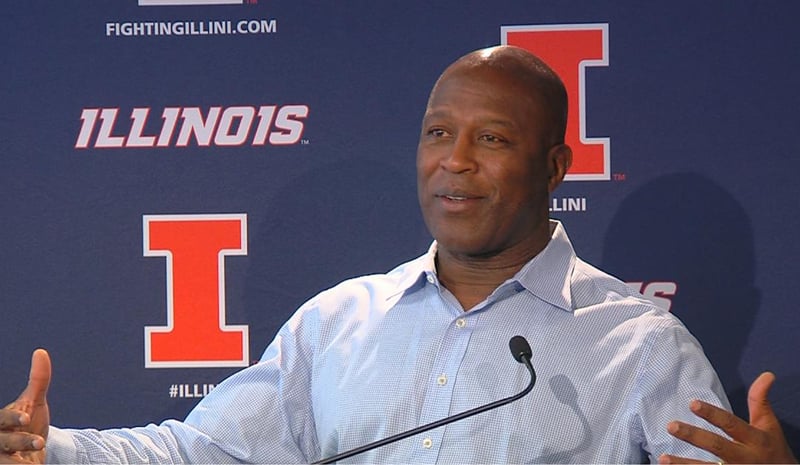 CHAMPAIGN -- Lovie Smith had 25 days from his hiring to the first spring practice.
That's 25 days to learn the campus, the city, hire a staff, and learn about the players on the team he just inherited. All the while, he has to try to jump-start a stalled recruiting effort.
On Tuesday, he said they've done about all they can.
"All of our players are back from spring break, anxious to get on the football field," said Smith, speaking to the gathered media for the first time since he was introduced on March 7. "I know most of our roster right now. We know most of our roster right now."
The unconventional turnaround presented some challenges for the new staff, which wasn't even fully assembled until last week. Smith, whose hiring made national headlines, and spiked Illinois season ticket sale, said he's happy with the response on the recruiting front.
"With the players we've reached out to, and reach out to us, I guess that's about all you can ask," he said. "They're watching and listening to what's going on here with Illinois football. That part has been good. It's up to us to keep that momentum going, and we definitely have momentum right now."
Friday, Illinois begins its 15-practice spring schedule. Coming off a 5-7 season, there will be a number of storylines to follow - aside from Smith's arrival on campus - this spring.
Offensively, senior quarterback Wes Lunt should be getting back a healthy Mikey Dudek, the 2014 freshman All-American wide receiver who tore his ACL before last season. Runningback Ke'Shawn Vaughn also returns, looking to build on a strong freshman season. They work behind an experienced offensive line.
The defensive side of the ball will feature a few more open battles - including in spots to fill a depleted secondary, linebacking corps. Up front, they're tasked with replacing Jihad Ward, the departing defensive end whose draft stock had risen since the 2015 season ended.
Smith, who seems to still be in the "getting to know you" phase, said all of the on-field decisions will come with time.
"I have enough to know who they are," said Smith. "From there we'll start making opinions based on what we see on the field. I don't think there's anything else we can find out before we do that."
Illinois' spring season begins April 1. They'll continue through April 26, with one session open to the public. April 16's open scrimmage will be free to fans, and start at 1pm at Memorial Stadium.