Smith Introduces Illinois Football Staff
Posted: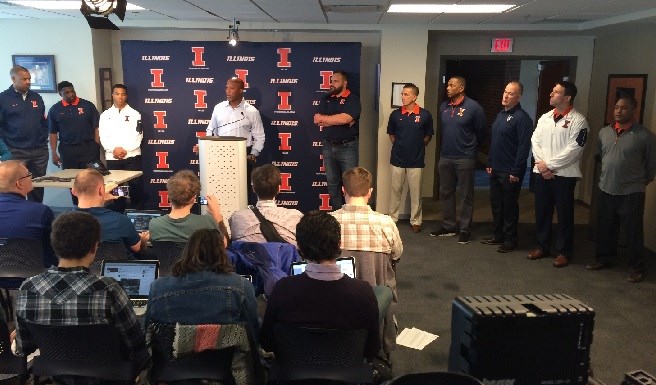 CHAMPAIGN -- All eight Illinois football assistants were in the same room Tuesday, all gathered withing three weeks of Lovie Smith's hiring at Illinois.
"It's been a blur, that's about the only way I can explain it," said Mike Phair, one of four holdovers from Bill Cubit's staff. "It's been fun. It's been good getting a chance to be back with coach Lovie."
"I think (runningbacks coach) Thaddeus (Ward) was the last coach that came on board last week, officially, so we haven't spent a whole lot of time together as an entire staff," said Lovie Smith, hired on March 7, and tasked with getting a proper staff together before spring football season.
"We'll start working through things. That's why you need to get on the football field."
The allure of Lovie Smith at the University of Illinois was almost universally given as a reason this staff came together. Consider someone like offensive line coach Luke Butkus, who left Illinois following the 2012 season for an NFL job. After three seasons with the Jacksonville Jaguars, he's back at his alma mater.
"That was exciting to be an alum, and to hear Lovie Smith," he said. "I was just as happy as everyone else in the state of Illinois when his named was announced."
Within days of his hiring at Illinois, Smith said he was on the phone with coaches he'd worked with in the past, as well as players he'd once coached or recruited, looking to fill positions with the right people.
The resumes are as strong for an assistant pool as they've ever been at Illinois. It includes loads of experience, most from Smith's past. Wide receivers coach Andrew Hayes-Stoker comes from the same position with the Indianapolis Colts. Butkus spent the last three seasons with the Jacksonville Jaguars. Special teams coordinator Bob Ligashesky was lured away from the Houston Texans.
"For the most part, the guys that I set out and wanted on my first staff, we were able to get," said Smith. "So you can't get much better than that."
That includes new offensive coordinator Garrick McGee, who came to Illinois from the same position at Louisville.
"I'm really excited to be in the Big Ten, which is where I started offensive coordinating," said McGee, who was the coordinator at Northwestern from 2006-2007. "This is an extreme challenge, but we're looking forward to getting out on the field and get going."
On the other side of the ball, Hardy Nickerson will run the defense. Nickerson is a 16-year NFL veteran, who had been hired as the linebacker coach for the San Francisco 49ers six weeks before accepting the defensive coordinator job at Illinois.
"Having the opportunity to call a defense and run a defense that both of us believe in wholeheartedly, was just huge," said Nickerson. "We just talked about the opportunity to come in here and do something special."
Below is the full list of Illinois football assistants, as introduced by Smith on Tuesday. Illinois begins spring football practices on April 1.
ILLINOIS ASSISTANTS
Garrick McGee, Offensive Coordinator
Hardy Nickerson, Defensive Coordinator
Thad Ward, Runningbacks
Luke Butkus, Offensive Line
Andrew Hayes-Stoker, Wide Receivers
Bob Ligashesky, Special Teams/Tight Ends
Tim McGarigle, Linebackers
Paul Williams, Defensive Backs.