Illini Drop Game at Indiana St. on Dropped Strike Three
Posted: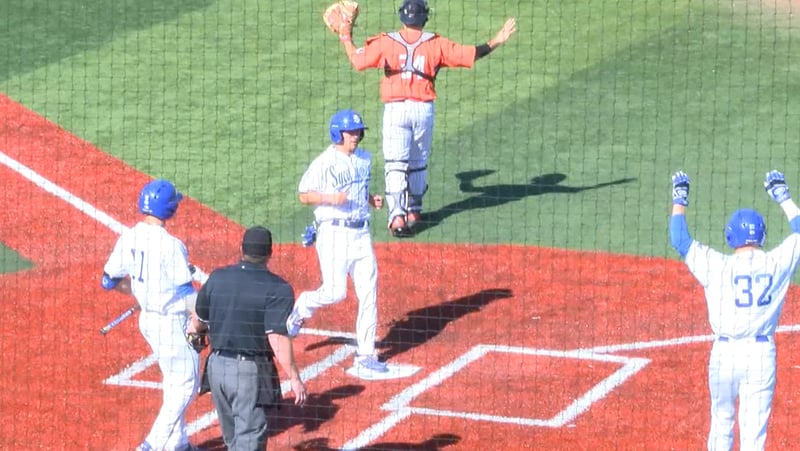 TERRE HAUTE, Ind. - A dropped third strike allowed Indiana State's winning run to score with two outs in the ninth inning against Illinois on Tuesday at Bob Warn Field. The Illini had rallied to tie the score, 4-4, in the eighth before losing, 5-4.
Indiana State's Kyle Moore reached on an error to leadoff the ninth, before moving to second on a sac bunt and advancing to third on a groundout. The Sycamores' Andy DeJesus then struck out but the third strike got away from catcher Jason Goldstein, allowing DeJesus to beat out a throw to first base and Moore to score to end the game.
There was some controversy on whether the pitch hit DeJesus during the swing, while Goldstein scrambled to find the ball and make the throw that DeJesus beat. If the ball hit his foot, the third strike would have counted, the ball would be dead and the inning would have ended without the run scoring.
Illinois (10-12) had stormed back with four runs on four hits in the eighth after getting two hits over the first seven innings. Michael Hurwitz, Adam Walton and Dan Rowbottom opened the frame with a single, double and single, respectively, and Pat McInerney grounded out for an RBI before Anthony Drago blasted a two-out, two-run home run to the opposite field to tie it.
It was Drago's second hit of the day and his team-leading fourth home run of the season. Adam Walton ended the day with two doubles, his third career game with multiple two-base hits.
Nick Blackburn (0-3) took the loss despite not allowing an earned run. He went the final 2.2 innings and allowed one run on two hits while striking out three. Blackburn was the fourth Illinois pitcher used following Andrew Mamlic (5.0 IP, 3 R), Charlie Naso (0.1 IP, 1 R) and J.D. Nielsen (0.2 IP, 0 R).
Indiana State (15-11) received an excellent outing from Weston Rivers, who went 6.0 innings without allowing an earned run on two hits. Jeremy McKinney (2-1) was the Sycamore's pitcher of record, throwing the last 2.0 innings and allowing one run.
Only two of Indiana State's five runs were earned, both coming on solo homers. Cody Gardner homered in the fourth off Mamlic and Andy Young sent a ball over the left field wall off of Naso.
Young had three hits and No. 9 hitter Tyler Friis had two hits. Friis left the game in the fifth inning with an injury that required him to be taken off on a stretcher and caused a 15-minute delay as he received medical attention.
Illinois returns to the diamond during a three-game series at Nebraska this weekend.