Illini Open Spring Camp
Posted: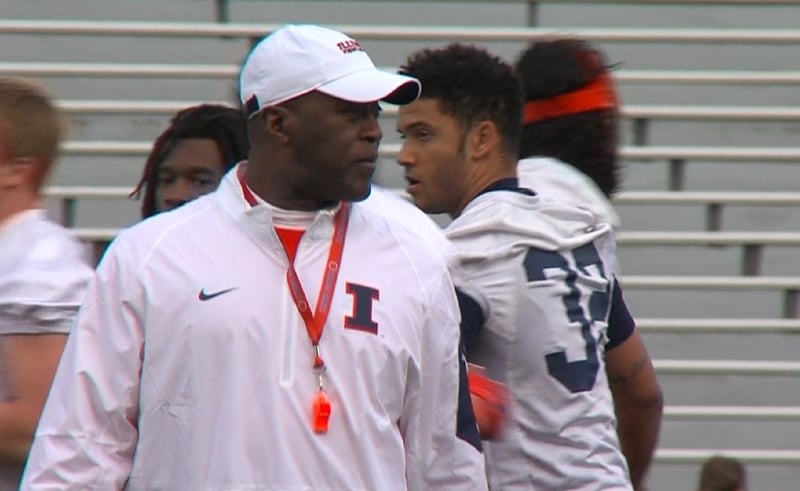 CHAMPAIGN -- The Lovie Smith era at Illinois began in earnest on Friday, as the new head coach took the field for the first time with the 2016 Fighting Illini.
Smith, who's hardly had the chance to sit -- let along learn all 84 names on his roster -- joked that he's still learning the basic of basics about his team.
"I have my cheat sheet here with all the names," said Smith, unfolding the same roster given to the media before practice. "I don't know everyone, but I'm learning. And when you do something, I really look at that list and see exactly who it was. We had a lot of guys that stood out and made some plays today."
"For me, today what I wanted to do was see all positions, and see exactly what we have."
It's the first of 15 spring practices, a training camp that was delayed due to a regime change. Smith was hired on March 7, two days after former coach Bill Cubit was fired. In the three weeks since his hiring, Smith assembled a staff that included six new assistants to go with three holdovers from the previous staff.
During the two-plus hour practice, Smith bounced from group to group, mostly letting his assistants run drills.
There were immediate positives from Friday's practice, like the return of wide receiver Mikey Dudek from ACL surgery. Dudek, a freshman All-American in 2014, missed the entire 2015 season, and was glad to be back on the field.
Dudek, like the rest of the Illini, noticed a different pace to Friday's practice, who ran much more like a professional training camp -- not surprising, since much of the experience now on staff was gained in the NFL.
"It was definitely intense," said Dudek. "They want everything perfect, which is good for us. We want coaches that are on us to be perfect, because if you're perfect, then no one can beat you."
While many players were shaking off a little offseason rust, most were still absorbing the shock of a second coaching change in less than a year.
This time around, it's a bit more surreal, as many players are Bears fans, and as kids grew up watching Smith coach their favorite NFL team.
"It's crazy," said quarterback Wes Lunt. "I think it'll take some time getting used to. He's a great head coach, hires great guys, and so far it's been good."
It's also surreal for redshirt freshman Gabe Megginson from Jacksonville, who caught himself when referring to his new coach.
"Lovie, er... coach Smith will walk in," he said. "I'm like, hey do you see who our coach is? It's just still a shocker. And all those other coaches, they've had great NFL pasts. It's crazy, it's a whole new change."
With a lot to cram into less than a month's worth of practice, the Illini will hit the field again Saturday.
In place of the Orange and Blue Spring Game, Illinois will host an open practice on April 16 (Saturday) at 1pm. Parking and admission at Memorial Stadium are free.