Illinois Softball Makes Quick Work of Rutgers, Winning 8-0 in Six Innings
Posted: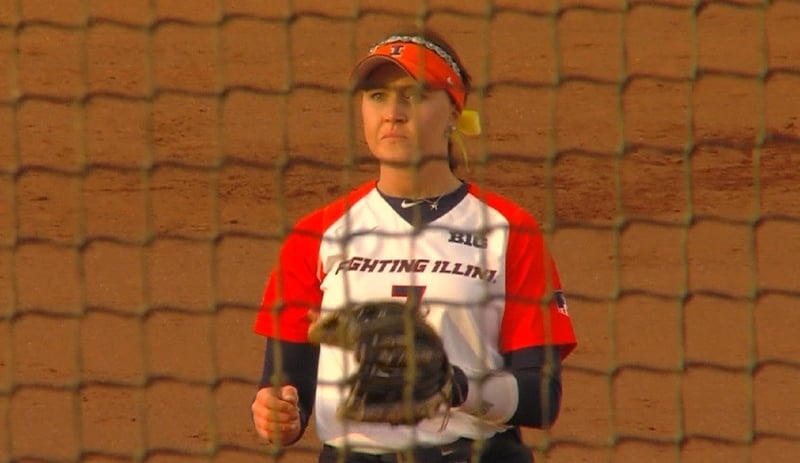 CHAMPAIGN, Ill. - The Illinois softball team continued its strong play in Big Ten Conference action as junior pitcher Jade Vecvanags held Rutgers to one hit in an 8-0 six-inning rout of the Scarlet Knights on a cold Friday (April 1) night at Eichelberger Field.
With the win, the Illini improve to 22-10 and have won three-straight conference games for a 3-1 mark in the Big Ten, while Rutgers falls to 15-20 and 0-4 in the league.
"Today was a good start to the series," said head coach Tyra Perry. "I was really proud of Jade Vecvanags as she came through and pitched her game today. I was also proud of our defense. They played really solid behind her. I thought we did a good job at the plate. I think we can do better, but we were able to score the runs that we needed to win the game."
Vecvanags (9-7) gave up just one hit - single up the middle in the third inning - and one walk on the night, while striking out four batters in six innings to earn the win.
The Illini opened the scoring in the first as senior Allie Bauch registered a two-out double to keep the inning alive, before junior Nicole Evans doubled her in with a two-bagger down the left-field line. After back-to-back walks to load the bases, sophomore Annie Fleming delivered a base-clearing double to deep right centerfield to give UI a quick 4-0 lead.
Sophomore Carly Thomas made it 5-0 in the fourth inning on an RBI single to right field to plate senior Kylie Johnson, who singled to the pitcher earlier in the frame.
Senior Remeny Perez added to the Illini edge in the fifth with a two-run home run to right centerfield, her fourth long ball of the season.
An RBI groundout from Bauch that scored junior Alyssa Gunther from third then sealed the run-rule victory in the sixth inning.
The Illini outhit the Knights, 12-1, with RU committing four errors in the loss. Thomas, Gunther, Fleming and junior Ruby Rivera each totaled two hits for the Illini, with Fleming adding three RBI and Rivera chipping in a pair of runs.
Dresden Maddox (6-7) suffered the loss after allowing seven runs on 10 hits in four innings of work.