Big 5th Inning Leads Illinois Past EIU
Posted: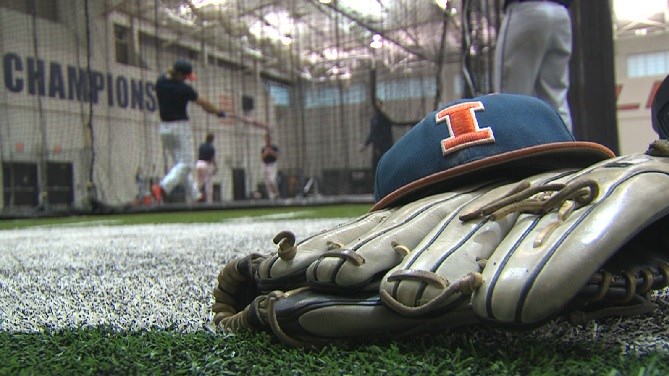 CHAMPAIGN, Ill. - The Illinois baseball team set a season high with 16 hits in a 9-7 win over Eastern Illinois Tuesday night at Illinois Field. Doran Turchin and Anthony Drago had three hits and Jason Goldstein added three RBIs.
Illinois (12-14) entered the fifth inning with a 4-1 lead and broke out for five runs on seven hits to pull ahead 9-2. Pat McInerney, Goldstein and Luke Shilling all drove in runs in the inning that led Illinois to tie its season best for runs.
Eastern Illinois (5-23) came back with three runs in the seventh and two runs in the eighth, before Nick Blackburn came in to close the game with his sixth save.
Six Illini had multiple hits and eight of nine in the lineup had at least one hit. Adam Walton, Shilling and Turchin all doubled and Goldstein delivered a two-run homerun in the third, his second of the season.
Jack Yalowitz (1-1) picked up the win in 1.0 inning of scoreless relief. He threw the fifth after starter Quinten Sefcik allowed two runs on seven hits in the first four innings during his first career start. Joey Gerber shut out Eastern Illinois in the sixth before Zak Devermann and Matthew James combined to allow five runs over the next two frames.
Jake Johansmeier took the loss, allowing four runs in 4.0 innings. Jake Haberer was tagged for five runs (four earned) in the fifth.
Demetre Taylor and Mitch Gasbarro both had two hits and two RBIs for the Panthers.
Illinois travels to Iowa this weekend to face the Hawkeyes. After the trip to Iowa City, Illinois plays 10 of its next 11 games at Illinois Field.