Millikin Men Swept by North Central
Posted: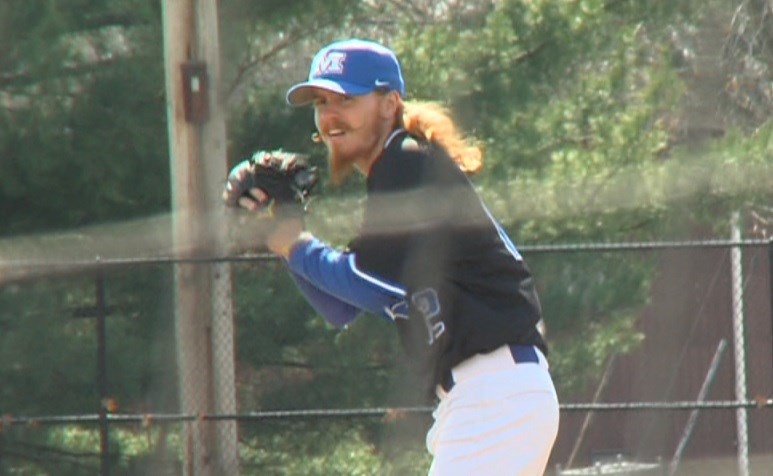 The Millikin baseball team dropped a twin bill to North Central College on April 5 at Sunnyside Park in Decatur. The Cardinals won game one 6-4 and took the nightcap 10-6.
In game one, Millikin broke a 1-1 tie with a run scoring single by Andrew Huss that made it 2-1 Big Blue. The Cardinals answered back with three in the eighth and two more in the ninth. The Big Blue mounted a ninth inning comeback on back-to-back homeruns by Julian Gutierrez and Jake Stanton, but the rally fell short. Gutierrez was 3-5 for the Big Blue with Keith Askins and Adam Peters each collecting two hits. Starter freshman Owen Pulver pitched seven strong innings for Millikin allowing one unearned run on five hits while striking out seven.
Chris Hill led the Cardinal attack going 3-4. Austin Wheatley had two hits. North Central took advantage of five Millikin errors. Russell Hoh was the winning pitcher allowing two hits on eight hits over seven innings and recording seven strikeouts. Nick Rogalski picked up the save.
In game two, North Central jumped out to a 6-0 lead in the third inning. The Big Blue fought back with five runs in the bottom of the third inning thanks in part to a three-run homerun from Gutierrez. The Cardinals iced the game with a three run eighth inning.
Seth Coffey and Luke Azzerelli each had two hits for the Big Blue.
Michael Mateja was 3-4 for the Cardinals. Hill, Nick Sotiros and Sing Fong each had two hits.
Millikin is now 10-8, 0-5. North Central improves to 14-2, 3-2.
Millikin will travel to Eureka College on April 7 and host Elmhurst College in a conference series on April 9-10.