Illinois Softball Swept at Minnesota
Posted: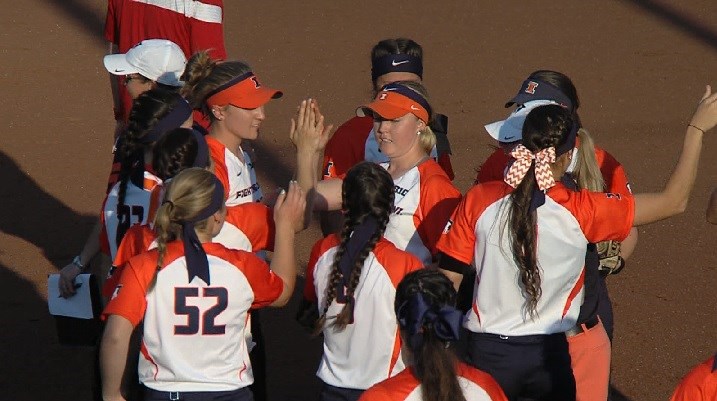 MINNEAPOLIS, Minn. - The Illinois softball team committed three errors on Sunday (April 10) and suffered a 6-2 series finale setback at No. 22 Minnesota in Jane Sage Cowles Stadium.
The Gophers (27-10, 8-1 Big Ten) led off the game with a solo home run from Sam Macken en route to building a 4-0 lead after plating a run in each of the first four innings, including scoring on a bases-loaded walk in the second and pair of Illini fielding errors in the third and fourth frames.
After being held hitless through four innings, sophomore Annie Fleming led off the fifth with a single through the right side, before junior Ruby Rivera earned a walk to put two runners on for the Illini (23-15, 3-6 Big Ten). Redshirt-freshman Emily Brodner then delivered a two-RBI single to left center to cut the Gopher lead to 4-2.
It would be as close as the Illini would get as the Gophers held the visitors to just one hit over the next two innings and added a pair of insurance runs in the sixth to sweep the three-game series.
The Illini had three hits in the loss, with Brodner, Fleming and junior Nicole Evans each notching a hit. Minnesota totaled seven hits and did not commit an error in the win.
Junior pitcher Breanna Wonderly (8-6) went 5.1 innings for the Illini, giving up six runs, with only two earned, on six hits and two walks, while striking out three.
Sara Groenewegen (19-4) pitched a compete game to earn the win, allowing two runs on three hits and striking out nine in the outing.
The Illini next returns to Eichelberger Field on Wednesday (April 13) for a midweek doubleheader against Big Ten Conference rival Northwestern. First pitch for game one is slated for 5 p.m. CT, with game two to follow approximately 20 minutes after the conclusion of game one. Both games will be broadcasted on the Big Ten Network.
For more Fighting Illini softball news, stay tuned to FIGHTINGILLINI.com and follow the team on Twitter @IlliniSB or like Fighting Illini Softball on Facebook.