Illini Slug Past Redbirds
Posted: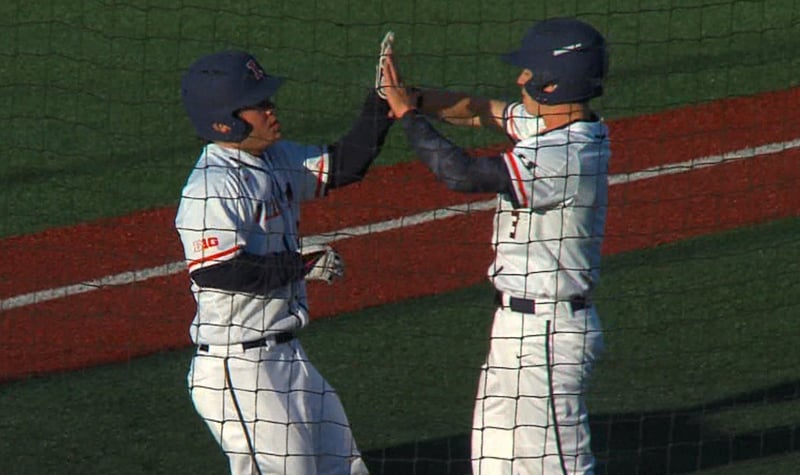 CHAMPAIGN, Ill. - Jason Goldstein had four RBIs and Andrew Mamlic pitched 6.0 strong innings as the Illinois baseball team beat Illinois State, 7-1, Tuesday night at Illinois Field. Illinois swept the season series against ISU, 2-0.
"Offensively, we had a really good night," said head coach Dan Hartleb. "If you look at what we've done since the second game at Nebraska, we've done a much better job offensively. We've got the guys to relax a little bit more and it was good to see them do that with runners in scoring position tonight. I am really pleased with the progress."
Goldstein had three hits and a double and Michael Hurwitz, Dan Rowbottom and Doran Turchin added two hits apiece. Illinois went 6 for 14 with runners in scoring position.
The Illini (14-16) scored two runs in the first, fifth and sixth innings. Goldstein had the team's first three RBIs before Mark Skonieczny hit a two-RBI triple in the fifth. In the sixth,
Goldstein hit another RBI single and Rowbottom followed with a single to drive in Goldstein.
Mamlic (2-6) picked up his second win. He went 6.0 innings, while scattering nine hits and allowing one unearned run.
Quinten Sefcik retired six straight hitters in the seventh and eight and Nick Blackburn worked a scoreless ninth to finish off the Redbirds.
Illinois tagged Illinois State (8-23) starter Jacob Hendren for two runs in 2.0 innings. Hendren (1-7) suffered his seventh loss after going 10-2 a year ago.
Illinois hosts Saint Louis this weekend for three games Friday-Sunday at Illinois Field.