Illinois Softball Drops Home Doubleheader to Northwestern
Posted: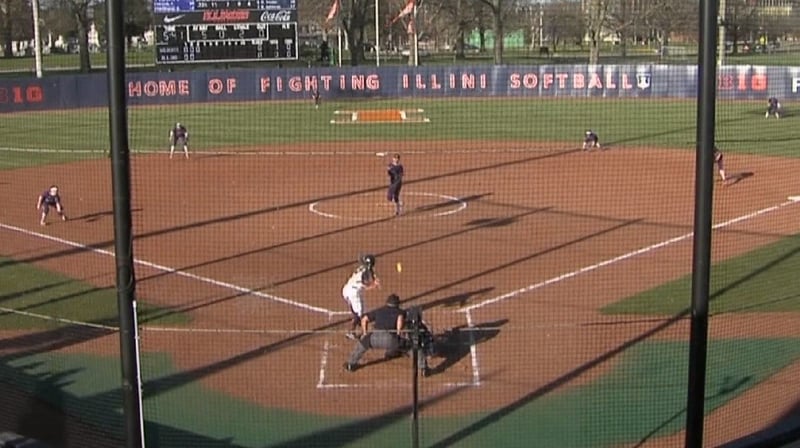 URBANA, Ill. - Senior Danielle Trezzo registered four hits and junior Nicole Evans launched her team-leading ninth home run of the season, but it was not enough as the Fighting Illini softball team fell to Northwestern in its doubleheader series, 12-6 and 6-4, on Wednesday (April 13) night at Eichelberger Field.
Trezzo posted a 4-for-7 effort plus two RBI and a run in the two contests for the Illini (23-17, 3-8 Big Ten), while Evans totaled two hits and three RBI. Junior Alyssa Gunther added two hits and two runs, with sophomore Carly Thomas also contributing a pair of hits and an RBI in the two setbacks.
Junior Breanna Wonderly (8-7) started both games and pitched 13 out of a total 14 innings on the night, earning a no decision in game one, but taking the loss in game two. Wonderly allowed 11 runs - nine earned - on 17 hits and five walks and struck out three between the two games. Classmate Jade Vecvanags pitched 0.2 innings in game one to take the loss, giving up three runs on two hits and two walks.
Game One: Northwestern 12, Illinois 6
It was a scoreless tie through the first three innings of game one of the doubleheader, before both teams struck for a pair of runs in the fourth frame. After the Wildcats (16-20, 7-4 Big Ten) grabbed a 3-2 lead on an RBI sacrifice fly in the fifth, the Illini took advantage of a pair of NU miscues and a Trezzo RBI single through the left side to take a 5-3 advantage.
After both teams traded a run in the fifth, the Illini entered the seventh inning with a 6-4 lead. The Wildcats would then bat around en route to plating eight runs on five hits and an Illini error, including a two-run double to left field, back-to-back bases loaded walks and an three-RBI double to centerfield, to put the game out of reach at 12-6.
The Illini were outhit, 11-7, with both teams committing two errors.
Amy Letourneau (7-7) gave up six runs, but only two earned, on seven hits and five walks and struck out three to earn the win for the Wildcats.
Game Two: Northwestern 6, Illinois 4
It was a back-and-forth affair in game two as the two teams traded runs throughout the first four frames. The game then moved into the sixth inning with the score tied at 3-3 when Evans bombed a homer out to Florida Avenue to push the Illini ahead at 4-3.
Poised for the win, the Illini faltered as Northwestern put three runs on the board on an two-RBI double to left field, followed by an RBI single to right field to steal the 6-4 victory.
The Illini registered six hits to the Wildcats' nine, while both teams suffered one miscue.
Kenzie Ellis (6-5) earned the win after allowing just four runs, two earned, on six hits and striking out four in six innings. Letourneau pitched a scoreless seventh in securing her second save of the season.