Danielson Named Semifinalist for Ben Hogan Award
Posted: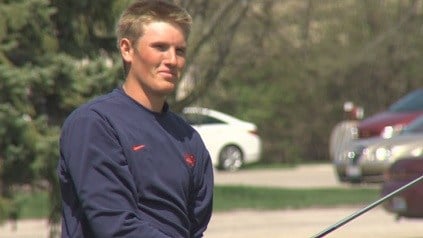 Fort Worth, Texas - Fighting Illini senior Charlie Danielson has been named a semifinalist for the 2016 Ben Hogan Award as announced today by Colonial Country Club, Friends of Golf and the Golf Coaches Association of America. Danielson was named to the Ben Hogan Award Watch List earlier this season, his second appearance on the prestigious list.
Danielson is one of ten semifinalists for the Ben Hogan Award, which is given to the top men's college golfer taking into account all collegiate and amateur competitions during the past 12-month period. The award selection committee will choose three finalists on Tuesday, May 3. The winner will then be crowned at the May 23 banquet in Fort Worth, Texas.
Also a nominee for the Byron Nelson Award, Danielson leads the Illini with his 71.0 stroke average this spring. He has earned six top-5 finishes during the year and has placed among the top-20 in all seven tournaments in which he has competed. Danielson also recently made his first PGA Tour event appearance, as he earned a spot in the Northern Trust Open. The Osceola, Wisconsin, native is the No. 1-ranked golfer in the Big Ten conference, and is ranked No. 7 in the nation by Golfweek.
Danielson is just the second Illini to be recognized as a semifinalist for the yearly honor as Scott Langley earned semifinalist recognition in 2011.