Spring Football Primer - Notes for Saturday's Open Practice
Posted: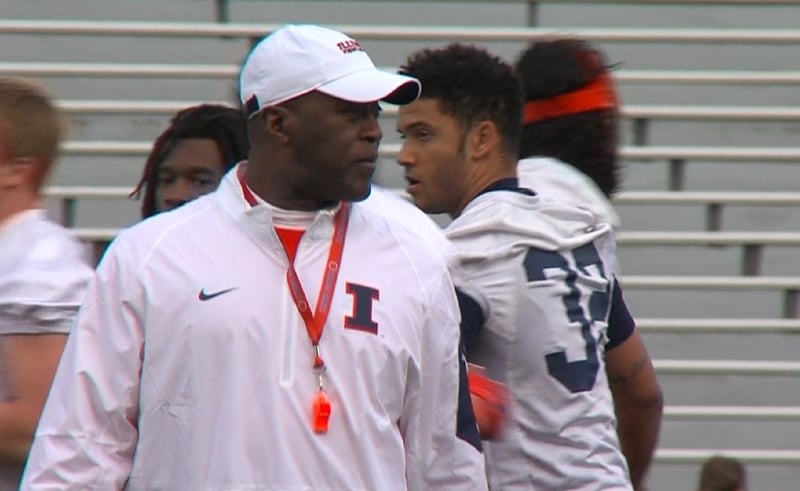 The Fighting Illini will hold an open practice at Memorial Stadium on Saturday, April 16, at 1 p.m. Admission and parking are free. It will be the first and only chance this spring for fans to get a look at Lovie Smith's squad. Here's what you need to know…
Open Practice Fan Info
» Admission is free and tickets are not required
» Doors open at noon for general public and premium seating
» Only the west side of Memorial Stadium will be open to public (west main/west balcony)
» Fans are asked to enter through Gates 20, 22 and 24 (all on west side)
» Concession stands will be open
» The is no live or tape-delayed TV coverage of the practice
» Family Fun: Inflatables will be set up in Grange Grove before and during practice
NOTE: This is not a traditional spring game. It's a normal practice that is open to the public
General Open Practice Timeline
9:00 am - Parking lots and Grange Grove open
9:00 am - Illini Athletics/Gameday Spirit merchandise sale opens
11:00 am - Entertainment starts in Grange Grove (DJ & drumline)
1:30 pm - Practice begins (stretching, individual, special teams, 7-on-7, team)
Approx. 3:15 pm - Practice ends
Approx. 3:30 pm - Team and Coach Smith sign autographs on field for 30 minutes
Parking Info
Free parking in the NW, NE & SW State Farm Center lots (Lots 35, 38 & 34 on parking map) and the lots surrounding Memorial Stadium (Lot32/E14, Lot 37/ARC & Lot 31, weather permitting) starting at 9 a.m.
NOTE: Kirby Avenue will be closed between First and Fourth Street starting at 11 a.m. to allow for pedestrian traffic to the Stadium).
Post-Practice Autographs
Head football coach Lovie Smith and the Fighting Illini players will sign autographs on the field following the practice for 30 minutes. (Limit one item per person for autographs). Autograph Table Layout
Grange Grove
Grange Grove just west of Memorial Stadium will be open for tailgating at 9 a.m. Entertainment in Grange Grove (DJ and drumline) will begin at approximately 11 a.m., weather permitting. Similar to the fall, parking is not available inside Grange Grove but fans are encouraged to bring in their own tailgate supplies.
Stadium Sale
The Illinois Division of Intercollegiate Athletics, in conjunction with Gameday Spirit Fan Store, will host a Fighting Illini merchandise sale on Saturday, April, in the Great West Hall of Memorial Stadium. The sale will run from 9 a.m. through the end of the open practice. Fans can enter the sale through gate 10 on the west side of the stadium.
Select-A-Seat
Prior to Saturday's Open Practice, Fighting Illini fans will have the opportunity to select their 2016 season ticket locations on site at Memorial Stadium. Fans can find the Select-A-Seat table in the West Concourse between noon and 1:00 p.m. on Saturday and team members will be available to assist. For questions, contact Scott Friedman at sfriedma@illinois.edu or 217-244-3212.