Danielson to Compete in Arnold Palmer Cup
Posted: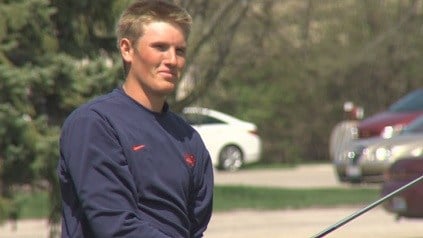 Norman, Okla. - Fighting Illini senior golfer Charlie Danielson has been selected to play in the 2016 Arnold Palmer Cup as announced Friday, on the Golf Channel. Danielson will make his first appearance for the United States at the event. He is the fourth Illini to appear on the prestigious list of participants in the Arnold Palmer Cup, joining Thomas Detry, Thomas Pieters and Scott Langley.
"I am honored to be selected to represent the United States in the Palmer Cup," Danielson said of the opportunity. "It's been a goal of mine since I have been in college. I'm looking forward to a trip overseas with a great group of guys."
The 2016 Arnold Palmer Cup is slated for June 24-26 at Formby Golf Club in Formby, Merseyside, England. Formby Golf Club boasts a 7,031-yard, Par 72 course located along the shores of the Irish Sea. The Palmer Cup uses a Ryder Cup-style format, with the United States and Europe matching up.
"As a coach and as a program we are very proud of Charlie," head coach Mike Small said. "Any time you have a chance to play for your country, in any competition, it creates a sense of personal pride and excitement. I know Charlie will really enjoy representing the United States and the University of Illinois."
Danielson, a Ben Hogan Award semifinalist and two-time PING All-American, has earned five top-5 individual finishes this season and leads the Illini with a 71.0 stroke average this spring. He has finished among the top-20 in each of the eight tournaments he has appeared in. Danielson also made his first PGA Tour event appearance this year, making the cut at the Northern Trust Open. He is the No. 1 ranked golfer in the Big Ten and is ranked No. 7 in the nation by Golfweek.
Team USA will be coached by Mike Cook, director of golf at Coastal Georgia. A Dave Williams National Coach of the Year award winner, Cook has led Coastal Georgia to 18 tournament wins on the way to two NAIA National Championships in just five years at the helm of the program.
Danielson and the Illini will close out regular season play at the Boilermaker Invitational this weekend, held in West Lafayette, Ind., April 16-17.