Illinois Ditching Camp Rantoul, Staying on Campus for Preseason
Posted: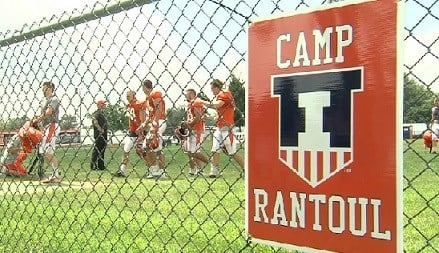 CHAMPAIGN, Ill. – The University of Illinois Division of Intercollegiate Athletics (DIA) announced today that the Fighting Illini football team will spend all of 2016 fall training camp on the Illinois campus.
That means the end of the annual "Camp Rantoul," a tradition in 17 of the past 18 football seasons.
"We feel staying in Champaign, in a familiar setting, is the best option to get our team prepared for the 2016 season," said head coach Lovie Smith. "As I understand it, Rantoul has made the football team feel at home and those who have worked with the teams have been extremely gracious. However, our facilities here on campus have everything that we need, and many of our players will still be in summer classes and going through final exams when camp opens. We look forward to creating an open and inviting atmosphere for our fans to enjoy Illinois football first-hand during preseason camp."
"We make today's announcement with mixed emotions, said athletic director Josh Whitman. "I was a member of the first Illinois team to experience Camp Rantoul. I have very special memories of my time in Rantoul and always appreciated the way that community embraced our football family. I know many of my fellow Illini football alumni share those feelings and memories. We are grateful to Mayor Chuck Smith and the many wonderful people in Rantoul who have done a tremendous job hosting us. We have been impressed by their leadership, which has resulted in the redevelopment of the Rantoul community, and we look forward to building our relationship with them in the years ahead.
"Our needs as a football program, however, have continued to evolve, and at this point in time, we feel that staying on campus will give our student-athletes the best chance to prepare for a successful 2016 season. Our campus offers tremendous facilities, convenience, and familiarity to our players and coaches. With all of the excitement around the arrival of Coach Smith and our new coaching staff, we are also excited about the opportunities that an on-campus training camp provides our fans and local community to interact with our team and experience Illinois Football in a personal way. We look forward to maintaining the openness that has been a hallmark of Camp Rantoul while creating an even more exciting and accessible experience for our fans."