Macon County Tornadoes Since 1950
Posted: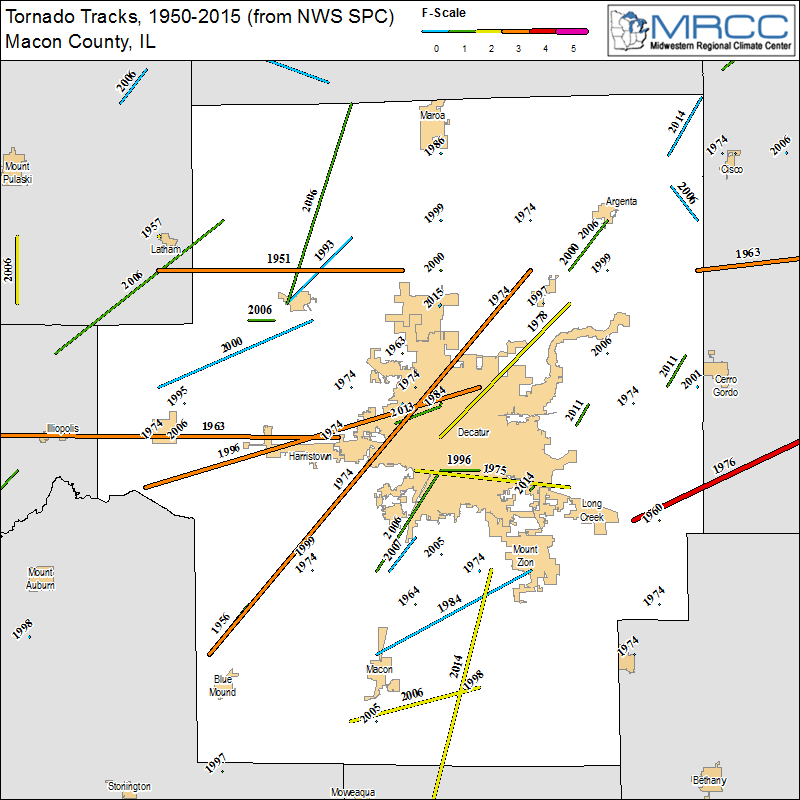 In Macon County from 1950 through 2015, 61 confirmed tornadoes have touched down, killing one person and injuring 73, causing 22.4 million dollars in damage. The one fatality occurred on April 3rd, 1974 as part of the "Super Outbreak", in which 148 tornadoes touched down across the eastern half of the U.S. in less than 24 hours. This particular tornado originated in Christian County, then moved northeast to near Decatur, before lifting 1 mile west of Oreana. One person was killed near the Macon County fairgrounds; 35 homes were destroyed and 120 were damaged. Click here for more details.
The strongest tornado reported was an F4 on March 20th,1976 at 1:15 PM. The tornado touched down in far southeast Macon County near Casner, before moving into Piatt County. This tornado ultimately was on the ground for 63 miles, lifting just northwest of Danville, and became violent by the time it reached Champaign County.
Today marks the 25th anniversary of back to back nights of tornadoes in the City of Decatur.
4/18/1996:The first of two tornadoes to strike Decatur on successive days. From Storm Data: A tornado touched down in the southeastern portions of Decatur. The initial touchdown was near the intersection of Martin Luther King Jr. Drive and Marion St. on the northwestern corner of Mueller Park. The path of the storm then moved a little north of east, with damage centered along Lincoln Street to about 19th Street. At that point the damage path center appeared to move somewhat to the north, crossing 22nd Street between Cantrell and Roosevelt. The path then went across the Nelson Park Golf Course, where it knocked down over 100 trees, then crossed over the western portion of the Hwy 36 bridge before lifting. 88 homes were either damaged or destroyed, as well as, numerous businesses. Nine people sustained minor injuries. Also, 6 large utility poles on the Hwy 36 bridge were blown over, which trapped several motorists in their cars, though no one was injured. The damage is estimated around $1.5 million.
The next night 4/19/1996, this tornado caused the most injuries per one event in Macon County. A tornado touched down 2 miles south southwest of Niantic and traveled to the east northeast causing extensive damage. It moved into Old Harristown at 727 pm destroying 4 to 5 homes, extensively damaging the remainder of the homes, tore the roof off of the old grade school gymnasium, and destroyed a grain silo. It continued to the east northeast and moved into the westside of Decatur at the intersection of Wyckles and Center Roads after crossing I-72, destroying a church at that intersection, as well as a couple of homes. Then the tornado lifted to tree top level for a short distance till it reached Ravina Park Road. "F3" damage was seen, as the tornado demolished a house in a gully area, then continued to move to the east northeast down Ravina Park Road, causing "F2" damage. The width of the tornado was from 1 1/2 to 2 blocks wide in this area. It then crossed Oakland Avenue, destroying the Sims Lumber Company, and then it lifted to tree top level again. It dropped down again near the intersection of Bloomington Road and Pythan Avenue, causing minor damage before lifting again just east of Morgan Street. The tornado touched down once more at the intersection of Pershing and 27th, causing damage to the roofs of several buildings at a manufacturing plant and damaging the surrounding fences before lifting. Twenty-nine people were injured, two seriously and damage was estimated around $9 million.
Tornadoes are listed as F scale because EF (Enhanced Fujita) scale was put into practice in February 2007. For a complete list of all the tornadoes to strike Macon County Click here.
Current Events

More>>

Wednesday, March 7 2018 12:29 PM EST

2018-03-07 17:29:46 GMT

INSIDE: Find the officials rules for WAND-T VShedRain Umbrellas sweepstakes.

More \232a

INSIDE: Find the officials rules for WAND-T VShedRain Umbrellas sweepstakes.

More \232a