Illini Notch Series Win over Ohio State
Posted: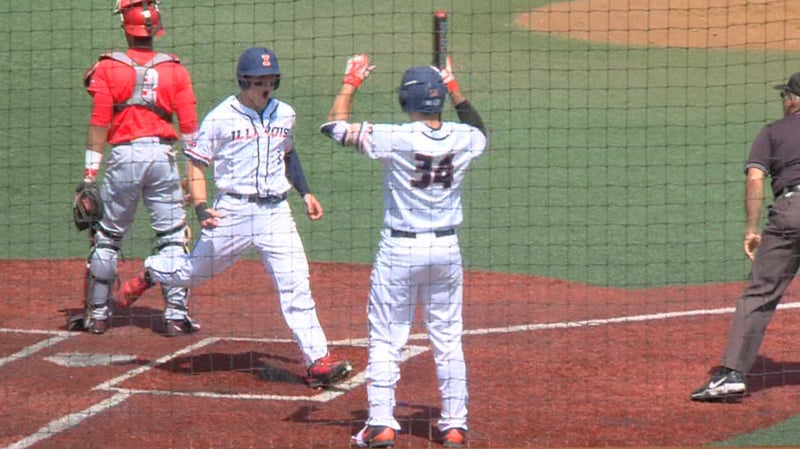 CHAMPAIGN, Ill. – Freshmen led the Illinois baseball team to a series-clinching 5-3 win Sunday over Ohio State at Illinois Field. Cole Bellair threw 7.1 innings to earn the victory and Jack Yalowitz hit a three-run double in the seventh.
"I thought we played extremely well," said head coach Dan Hartleb, "Obviously I am pleased with coming away with a victory but I was really pleased with the way our freshmen competed."
Bellair (2-2) scattered five hits, while allowing one run and striking out four. Only one base runner reached scoring position against Bellair, as the Buckeyes scored their lone run off the right-hander on a solo homer from Ronnie Dawson in the sixth. Bellair threw 90 pitches, 57 for strikes, to drop his season ERA to 2.79.
"We got a great start out of Cole Bellair," said Hartleb, "He was very solid, was in command and was very composed."
Illinois (20-17, 6-6 Big Ten) gave Bellair a 2-0 lead in the first inning when Doran Turchin tripled home Yalowitz and later scored on a groundout by Jason Goldstein. Turchin was in the No. 2 spot in the order for the first time this season.
Yalowitz broke open the game with his double that one-hopped the right field wall in the seventh. It came on a 2-2 pitch and plated Pat McInerney, who had singled, and Trent Hammond and Zack Kolakowski, who walked. Kolakowski started at short stop in place of Adam Walton, who snapped a streak of 134 straight starts at short dating back to 2014.
Ohio State (25-14-1, 6-7 Big Ten) put the tying run on second base with one out in the ninth before Nick Blackburn closed the door. Blackburn allowed a solo homer to Craig Nenning to lead off the ninth and a single and a double with one out set up the Buckeyes' opportunity. Blackburn got Troy Montgomery to pop out and Ryan Leffel to ground out to end the game with Dawson on deck.
Dawson was 2 for 4 with a double, homer and two RBIs. He homered in two of his last five at-bats of the series.
The win moved Illinois to sole possession of eighth place in the Big Ten. Four weekends are left in the conference schedule before the Big Ten Tournament features the top eight teams in Omaha May 25-29.
A three-day total of 6,301 fans came out to Illinois Field during the series. That is the fourth-best attendance for a series in program history.
The Fighting Illini have the week off before Minnesota comes to Champaign for a three-games series Friday-Sunday.