Wonderly Wonderful in Series-Clinching Win over Badgers
Posted: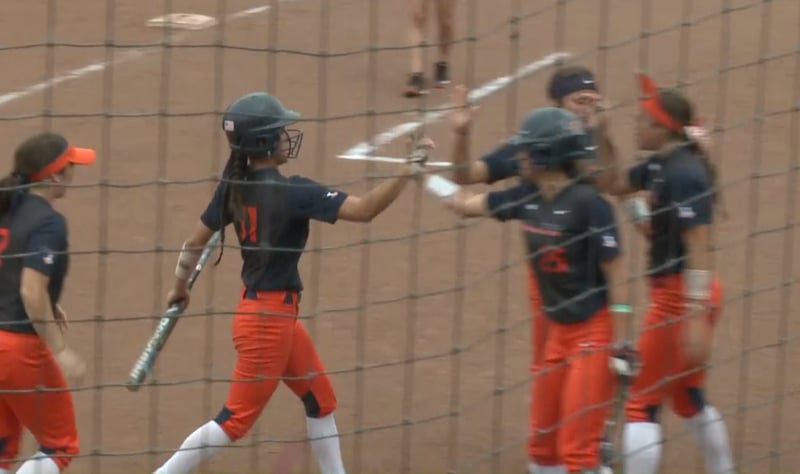 MADISON, Wis. – For the second-straight weekend, the Illinois softball team earned a Big Ten Conference series win as junior pitcher Breanna Wonderly led the Illini to a 1-0 victory over Wisconsin in the series finale on Sunday (April 24) at Goodman Diamond.
The Illini, who have now won five of their last seven, improve to 28-19 and 7-10 in the conference, while the Badgers slide to 24-19-1 and 9-7-1 in the league.
"I am really excited about this win and the series win as a whole," said head coach Tyra Perry. "This is a crucial point of the season and we are starting to click at the right time. I thought Breanna Wonderly was great this weekend. It is really hard to face a team three-straight times and to be able to get two wins is a testimate to her. I was also proud of Danielle Trezzo for getting that timely hit when we needed it. After being on the road for the last few weekends, we are very excited to get back to Eichelberger Field for a big series with Iowa."
Wonderly (12-9) continued her dominance in the circle, limiting the Badgers to just four hits and a walk and did not allow a Badger base runner past second base. She added three strikeouts in her sixth-straight complete game.
It was a pitcher's duel as neither offensive could get much of anything going until the sixth inning.
After a fielding error on the UW shortstop put junior Nicole Evans on base, a single to left field from sophomore Annie Fleming and a sacrifice bunt from junior Ruby Rivera moved sophomore pinch runner Sam Acosta to third. Senior Danielle Trezzo then brought home the game's only run on an RBI groundout to the short stop.
It was all Wonderly and the Illini defense from there as the right-handed pitcher registered all three of her strikeouts in the final three innings and got help from Evans, who made a run-saving diving catch in the fifth frame.
For the third-straight game of the series, the Illini outhit the Badgers, 5-4, with UW committing one error in the loss. Trezzo led the Illini with a hit and a run, while Fleming, Rivera, and seniors Allie Bauch and Kylie Johnson also notched a hit each in the contest.
Kirsten Stevens (10-9) took the loss after giving up one unearned run on five hits in five innings. Taylor-Paige Stewart finished the game with two scoreless innings.
After three-straight Big Ten conference weekend series on the road, the Fighting Illini will return to Eichelberger Field for its final weekend home series of the season as they host Iowa on April 29-May 1. It will be a busy weekend of events with Team Friend Day set for Friday, followed by the Illini fan favorite, World's Largest Softball Tailgate, along with Senior Day on Saturday as the Illini honor seniors Allie Bauch, Kylie Johnson, Danielle Trezzo, Remeny Perez and Nicole Tobon. The weekend will wrap up Strikeout Cancer Day on Sunday.