Sedlock Named B1G Pitcher of the Week
Posted: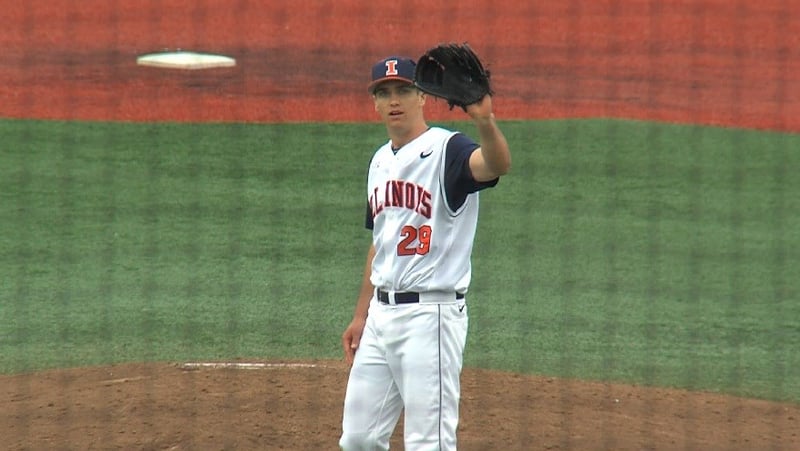 CHAMPAIGN -- Illinois ace Cody Sedlock's marathon performance Friday night earned him the conference's weekly honor.
Monday, Sedlock was named the Big Ten Pitcher of the Week. The Illinois junior tossed 10 2/3 shutout innings against Ohio State, in an eventual 15-inning 1-0 Illinois win. Sedlock struck out 14 Buckeye batters.
"That's what all the hours in the weight room and conditioning in the offseason in the winter, waking up at 6 a.m. three times a week, that's what that's for," said Sedlock. "I'm in the best shape of my life and built to go like that."
Here are a few notes in regards to Sedlock's accomplishment, provided by www.fightingillini.com:
» Longest outing in Division I baseball this season
» Tied for seventh-most strikeouts in a Division I game this season
» Most strikeouts in a Big Ten game this season
» Faced 36 batters and none reached second base between the third and ninth innings
» Six 1-2-3 innings, including a stretch of 13-straight batters retired through the middle frames
» Illinois struck out 23 batters in the game, tying the most by a team in Division I this season. Northeastern struck out 23 against James Madison on March 25.
» It was the Fighting Illini's second longest game in the last 68 years.
» Sedlock leads the Big Ten with 84 strikeouts.
» Sedlock's first Big Ten Pitcher of the Week honor