Small, Danielson Earn Top Conference Honors
Posted: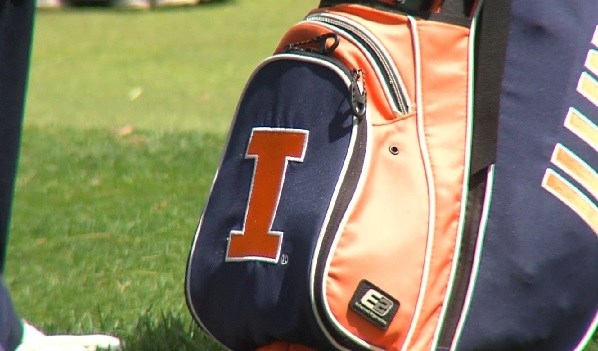 ROSEMONT, Ill. -Fighting Illini men's golf was recognized by the Big Ten Conference on Tuesday, as the league announced its postseason awards. Head Coach Mike Small was named Big Ten Men's Golf Coach of the Year for the second consecutive season and senior Charlie Danielson earned the league's Player of the Year honor. Four Illini were named to All-Big Ten teams.
Leading the Illini to seven conference championship titles in the past eight seasons, Small has been named the Big Ten's Coach of the Year eight times during his tenure. He has helped seven golfers earn player of the year honors, as an Illini has earned the prestigious award in each of the last five seasons.
A three-time PING All-American and Ben Hogan Award Semifinalist, Danielson leads the Big Ten with a 70.7 season stroke average and is coming off of a 9-under par performance at the Big Ten Championships. Danielson was recently named Illinois' Big Ten Medal of Honor recipient, and has finished among the top-10 in eight tournaments this season. Danielson is the fifth consecutive Big Ten Player of the Year from Illinois and the seventh individual to garner the yearly award in school history.
Three Illini were unanimous selections to this year's All-Big Ten First Team: Danielson, Thomas Detry and Dylan Meyer joined three other Big Ten golfers on the list. Sophomore Nick Hardy earned second team recognition, marking the second all-conference nod of his career. The honor marks the second for Meyer, while Danielson earns the third All-Big Ten recognition of his career. Detry has been named All-Big Ten in each of his four years, and was named Player of the Year in 2015. Danielson and Detry have been unanimous All-Big Ten selections for three consecutive seasons.

Senior Alex Burge was named the Sportsmanship Award honoree. Burge received the Tom Cousins Award during the fall season and was a finalist for the Byron Nelson Award. A redshirt senior, Burge has earned three top-25 finishes this year, and has competed in three NCAA Championships during his career at Illinois.
The Illini are coming off of their second consecutive Big Ten Championship title, winning this year's trophy with a record 24-under par final round. All five Illini shot 4-under par or better in the final round, each earning individual finishes among the top 20. Illinois won a school-record seven regular season tournaments this year.
NCAA Men's Golf Regional selections will be announced on the Golf Channel's Morning Drive at 8:30 a.m. CT, Thursday, May 5. The Illini will head to one of six regional sites including Ol' Colony Golf Complex in Tuscaloosa, Alabama, Gallery Golf Club in Marana, Arizona, Blackwolf Run Meadow Valleys Course in Kohler, Wisconsin, Championship Course at University of New Mexico, Albuquerque, New Mexico, Karsten Golf Club, Stillwater, Oklahoma, Vanderbilt Legends Club, Nashville, Tennessee.
The NCAA National Championship will be held May 27-June 1 at Eugene Country Club in Eugene, Oregon.
Stay tuned to FIGHTINGILLINI.com for all the latest on Illinois men's golf.
2016 BIG TEN MEN'S GOLF ALL-CONFERENCE AND INDIVIDUAL AWARD WINNERS
Big Ten Player of the Year: Charlie Danielson, Illinois
Big Ten Freshman of the Year: Charles Huntzinger, Penn State
Big Ten Coach of the Year: Mike Small, Illinois
ALL-BIG TEN
First Team
CHARLIE DANIELSON, Illinois
THOMAS DETRY, Illinois
DYLAN MEYER, Illinois
David Kocher, Maryland
Kyle Mueller, Michigan
Austin Eoff, Purdue
Second Team
Nick Hardy, Illinois
Nate Yankovich, Iowa
Mitch Rutledge, Michigan State
Dylan Wu, Northwestern
Charles Huntzinger, Penn State
Brian Carlson, Purdue