Hall of Fame banquet turns into Illini block party
Posted: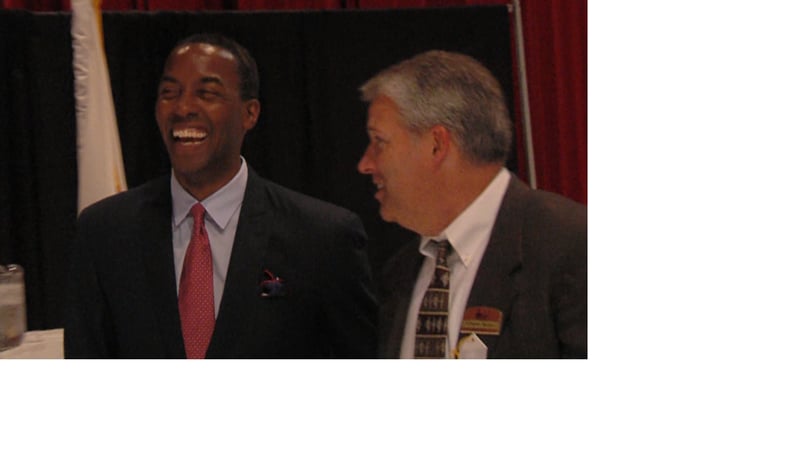 Former Illinois guard and current ESPN analyst Stephen Bardo was one of several members of the Flyin' Illini Final Four squad in attendance on Saturday night in Bloomington.
The annual Illinois Basketball Coaches Association's Hall of Fame banquet had a heavily Orange and Blue feel this year despite taking place on the campus of Illinois State University.

The Flyin' Illini Final Four team of 1988-89 was inducted -- including ESPN analyst Stephen Bardo and head coach Lou Henson -- in front of a capacity crowd of 1,500 on Saturday night at the Bone Student Center in Normal. Former NBA forward and Lincoln, Ill. native Brian Cook earned a spot as well, and the myriad coaches and players with Illinois ties were the center of attention among the overflow crowd.
Other local inductees included Louisville High star Dick Tolliver (Tulsa University), Champaign official Sam Banks, Le Roy official Mark Moberly, Morton coach Steve Schupp, Charleston coach Steve Hutton, Watseka and Iroquois County coach David Mitchell, former Teutopolis stars Amy (McKendree) and Maria (Southern Illinois) Niebrugge, longtime broadcaster Larry Duling (including Clinton, Mattoon, Lake Land College and Eastern Illinois) and Mahomet-Seymour star Brett Melton -- who finished second in Mr. Basketball voting in 2000 and played two seasons for the Illini basketball team before transferring to the University of San Diego. Tim and Jodi Deibert of Mount Pulaski were inducted as "friends of basketball" after contributing in ways ranging from washing uniforms to organizing hospitality rooms, while Chuck Fritcher of Dietrich earned a spot after his decades of score keeping and other duties.

Illinois target Charlie Moore was on hand to accept the Mr. Basketball trophy as the player of the year in Illinois high school basketball. The Morgan Park guard recently narrowed his list of college choices to eight schools, including the Illini. His female counterpart Kathleen Doyle from Benet Academy accepted the Ms. Basketball trophy.
Coach of the Year awards were also given out, and the district-by-district nominees included representatives of Lanphier, Warrensburg-Latham, St. Joseph - Ogden, Effingham, Moweaqua, Bloomington and many, many more schools in the WAND viewing area. For a full list of the winners visit the IBCA website.

Longtime Chicago media member, coach, scout and NBC/WAND-TV affiliate employee David Kaplan (CSN Chicago) was also inducted for his decades of contributions.