Illini legend Brian Cook stumps for Central Illinois basketball
Posted: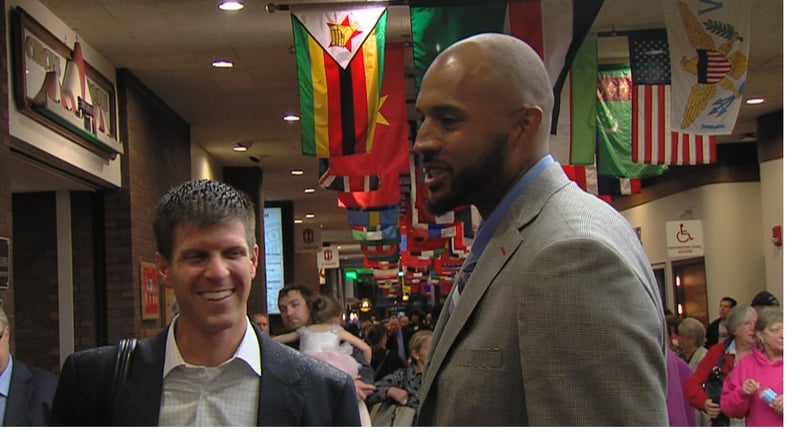 Former NBA forward Brian Cook led Lincoln High to the Elite 8 in 1999.
As a high schooler, Brian Cook led the Lincoln Railsplitters to the Class AA Elite 8. In college he earned both Freshman of the Year and Player of the Year honors, and when he left Champaign he was the 24th overall pick in the NBA Draft. Now after a nine-year run in the NBA and three seasons overseas, Cook is looking to get into coaching -- which is fitting because he was in Bloomington this weekend at the Illinois Basketball Coaches' Association Hall of Fame banquet, surrounded by the very people who he hopes to emulate on the bench.

But Cook -- who visited family in Decatur frequently growing up -- also spoke about his pride for the Central Illinois region at a time when some of the state's most visible alumni hail from downstate.

"I know there's a lot of Chicago legends and things," Cook said, "but downstate there's a lot of talent also ... what's great about it is there's different people like you said, Frank Williams' son, to different people that's been in basketball coming up that's helping the other people get chances from downstate to come up. You know what I mean, you got Andre Iguodala (note: Springfield native), Sean Livingston (note: Peoria native), you know, these guys are playing for championships."

Sometimes the areas clash in the brightest of spotlights -- like when four-time champion Peoria Manual (1994-97) knocked off a pair of Harvey Thornton squads in the Class AA championship game (1995 and 1996) that included future professional athletes Tai Streets (NFL), Napoleon Harris (NFL), Antwaan Randle El (NFL) and Melvin Ely (NBA). But to Cook there's a bond bigger than the Chicago-downstate rivalry.

"That's what we used to do, we used to want to come up to Chicago and beat up on them," Cook said, "so it's always been a competition. But at the same time it's all for the game of basketball, which is a great thing."