Hill Takes Haul at Illini Team Banquet
Posted: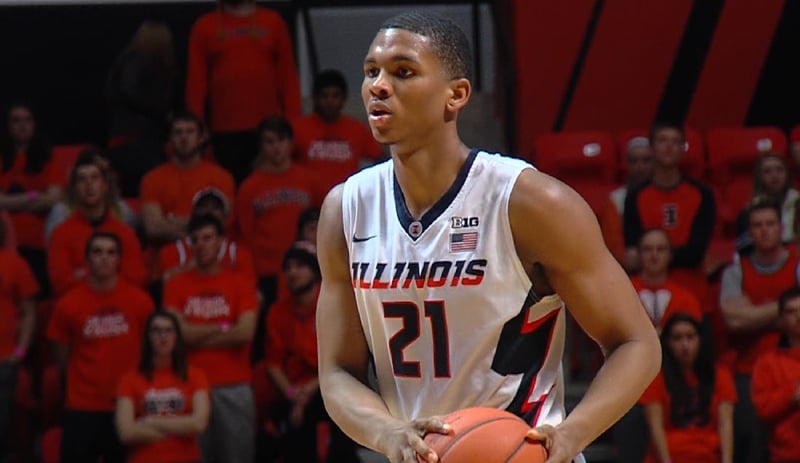 CHAMPAIGN (Illinois Athletics) - Junior guard Malcolm Hill was named Most Outstanding Player at the 94th annual Fighting Illini Basketball Banquet, sponsored by the Champaign-Urbana Kiwanis Club and held Monday night at the I Hotel.
Hill became the first-ever UI player ever to top 600 points, 200 rebounds and 100 assists in a single season en route to leading the Illini in total points, rebounds, assists and steals. He earned All-Big Ten and All-District honors after averaging 18.1 points - the highest scoring average by an Illini in the last 13 years - along with averages of 6.6 rebounds, 3.3 assists and 1.2 steals.
Most Outstanding Player was one of just four awards Hill received at the banquet. He took home the Illini Rebounders Award after averaging 6.6 boards per contest and earned the Ralf Woods Free Throw Trophy by connecting on 82.3 percent from the line during conference play (116-141). Hill also garnered the Matt Heldman "Matto" Award, along with junior teammate Maverick Morgan, for producing the most hustle plays during the season.
In addition to sharing the Matto Award, Morgan also was honored as the team's Most Improved Player. Morgan emerged during the second half of the season and ended up ranking fourth on the team in scoring during conference play at 9.5 points per game while shooting 54 percent from the field.
Freshman Jalen Coleman-Lands also won two awards on the evening. He earned the Orange Krush 3-Point Shooting Award for leading the Orange and Blue at 42.2 percent from behind the arc while setting the Illini freshman record with 87 treys. Coleman-Lands also received the Lou Henson Courage Award after overcoming a leg stress fracture that caused him to miss the entire summer and fall pre-season. He became the first Illini freshman in six years to average double figures, ranking third on the team in scoring with an average of 10.3 points.
Receiving special recognition at the banquet from Head Coach John Groce were seniors Mike LaTulip, Khalid Lewis and Mike Thorne Jr.