Illinois, Maryland split doubleheader
Posted: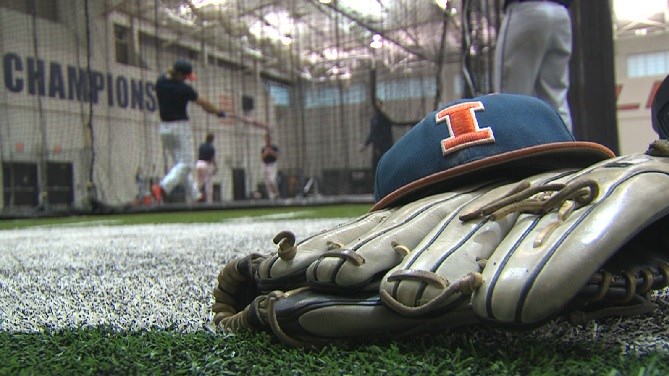 COLLEGE PARK, MD (via fightingillini.com) --Maryland's Kevin Smith hit a three-run home run with two outs in the seventh inning to beat the Illinois baseball team, 3-1, Saturday afternoon in the second game of a doubleheader. The teams split after Illinois won the opener, 4-2, behind Cody Sedlock's complete game.
The Fighting Illini's Doug Hayes (6-4) and Maryland's Taylor Bloom were both throwing one-hitters into the seventh, when the game's only runs were scored. Illinois took a 1-0 lead in the top half of the inning on a RBI single from Pat McInerney to drive in Michael Hurwitz, who had doubled, before Smith's shot in the bottom half.
Illinois (24-20, 8-9 Big Ten) had a chance to get out of the seventh without allowing run. Madison Nickens hit a potential double-play ball to Hayes with one out and runners at first and second, but the Illini were slow to turn the twin killing, allowing Smith to come to the plate with two out and two on.
Bloom (6-3) went the distance for his fifth complete game, scattering six hits and striking out four. He dropped his season ERA to 1.99 and entered the top five in the nation in complete games.
Hayes finished with 7.0 innings, while allowing four hits and three runs. He walked five batters early, but settled down to give up only one walk in his last five innings, while striking out four.
Charlie Naso, the only Illini reliever to throw during the doubleheader, worked a scoreless eighth. He walked one and struck out one in his third straight scoreless appearance.
Hurwitz extended his reached base streak to 23 games, the longest of his career.
Maryland (25-20, 10-7 Big Ten) will throw right-hander Brian Shaffer (5-3, 2.78) tomorrow against Illinois' Cole Bellair (2-3, 3.52). The series finale is set for 11 a.m. CT.