Clinton Community Holds Prayer Gathering
Posted:
Updated: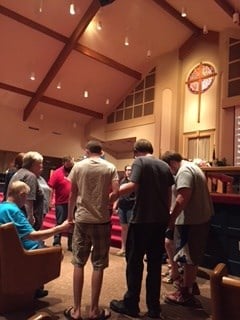 Clinton- Dozens of Clinton residents turned to prayer after learning of the Clinton Power Plant closure.
The First Christian Church in Clinton held a Community Prayer Gathering for members of the Clinton community in hopes prayer could save the power plant.
Attendees split into groups where they prayed together for five different topics. They first prayed for the for the plant itself. Next they prayed for the lawmakers and legislature of Illinois. Then they prayed for the effect on the towns of Clinton, DeWitt Counties and the surrounding areas. Next, they prayed for the families and friends of the affected. Finally, they prayed for the plant in the Quad Cities that is also slated for closure.
While residents hope their prayers can save the plant from shutting its doors, they are aware that this closure may still happen. In preparation for the plant closure, they prayed that the plant will close safely.
Rodney Rodgers, attended the prayer gathering and told WAND that he came to support his community members, and to reassure them that despite the closure, the town and its residents will survive. "We've had 42 years of feast by having the power plant here locally. It's brought lots to our economy, we have got lots of tourism because of the lake, so people are thinking in their minds that they are going to lose all that income or taxes and that people are going to leave." he said.
The closing of the Clinton power plant would cause a loss of 700 jobs.