Former high school rivals team up for the Illinois Shrine Game
Posted: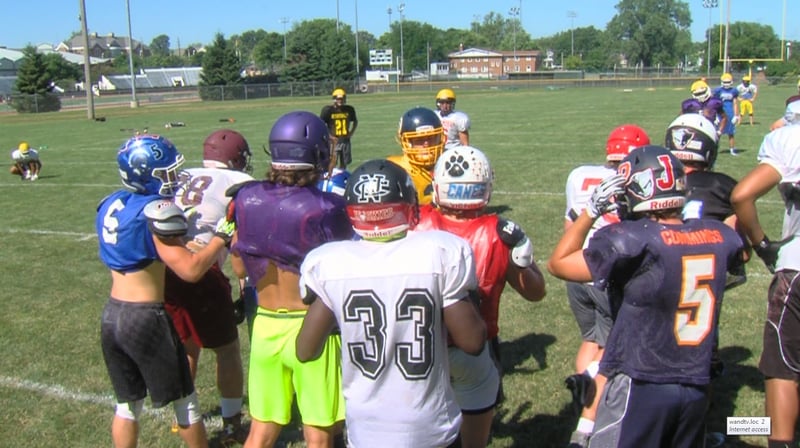 BLOOMINGTON -- Former Sangamo rivals are teaming up on the West team for the upcoming Illinois Shrine Game.
"We're not friends on the field during the season," West defensive lineman Jon Myers (North Mac) said. "But out here we're friends. We're having a great time. We're just trying to beat the east."
Most of the West all stars have plans to play football at the next level. That includes quarterback Joe Brannan (Jacksonville) who is headed to division two powerhouse Northwest Missouri State. Brannan says this week has been a nice little crash course on life as a college football player.
"All these guys here are pretty much going on to play college football," Brannan said. "They're the same caliber players as you are, so competition-wise you're just getting ready for the next level and I think that's helped all of us."
For Brannan and his teammates, one of the highlights of the week came Thursday night when they took part in the Miracle League softball games.
"It was great," Brannan said. "We just kind of got matched up with a kid, and played the field with them and helped them run the bases. We hung out with them for an hour or two, it was a lot of fun."
After a week of practice both teams have developed nice chemistry. They expect plenty of fireworks on Saturday.
"It's going to be a back and forth game," Myers said. "I think it will come down to the last minute of the game, whoever makes the first mistake."
"It's bittersweet because it's kind of the end of your high school career. But getting to play on the big stage like this and represent your high school, it's a lot of fun," Brannan said.
The Shrine Game kicks off tomorrow afternoon at 1 pm.