Lovie Smith's first Illini training camp kicks off in Champaign
Posted: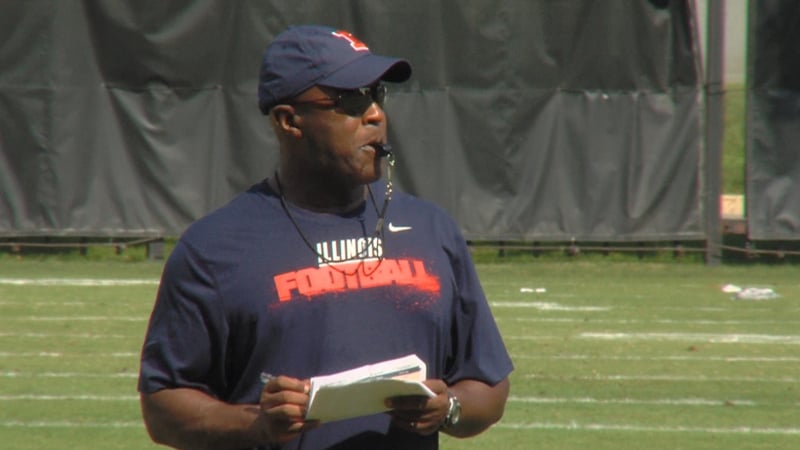 CHAMPAIGN -- Players and coaches took the field next to Memorial Stadium for the first summer training camp practice of the Lovie Smith era.
Smith was his usual self - cool, calm, and collective. But don't let that fool you; he was just as excited as anyone else.
"I've had a lot of opening days for training camp in my career, and you get pumped up and excited about every one," Smith said. "I haven't been getting 8 hours of sleep this week. That first team meeting when you get together is pretty special. And for us around here we're changing an awful lot, culture, everything."
The man who hired Smith, new athletic director Josh Whitman, spoke to the team towards the end of practice.
"Josh knows what it's like to have a first day, to wear our colors, so it was good for him to speak to the group to start it all off," Smith said. "(Whitman) let them know what it feels like to wear the colors, what's expected from the alumni and what they want to see from their football team. And him as a leader, what he expects from all of our athletes."
Senior linebacker Hardy Nickerson wore the orange and blue for the first time since transferring from California during the spring.
"We had our first defensive team meeting last night," Nickerson said. "The big emphasis was 'hey everyday we go out there we've got to play fast, hard, physical, and we've go to be flying around.'"
The team ran a lot of plays, almost as many as a scrimmage. They didn't seem tired afterwards, even on a 90-plus degree day. A grueling off-season workout program has players in shape and ready to play.
"It was a long hard off-season," senior quarterback Wes Lunt said. "Everyone tried to change their bodies. Coach Smith just really emphasized changing your body. It was a big summer for lifting, running, and getting to learn the offense. I've cut down a few pounds. He wanted everyone to lose body fat. That was the biggest thing - everyone to be as lean as possible. I think you can see it on some of the guys. A lot of people did a good job of just dieting and working hard this summer."
Smith will miss practice Saturday to watch his mentor Tony Dungy, and former player Orlando Pace get enshrined into the Pro Football Hall of Fame.
"Once practice is over on the way back, I assume it will already be downloaded on my IPad, so it will be just like I'm here as far as I'm concerned," Smith said.
The Illini return to the practice field Friday at 2:30.