Fighting the Fish: Part 2
Posted: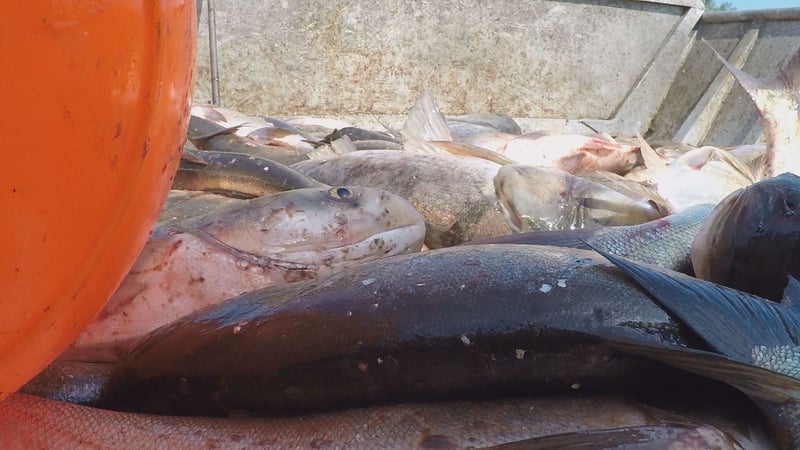 Gripping the handle of his outboard motor and scanning the shoreline, Charlie Gilpin navigates his boat around a horseshoe-shaped island in the Illinois River near LaSalle.
"I'm a commercial fisherman … I've been doing that almost all my life," Gilpin explained. "(I) usually catch buffalo, catfish, carp."
On this day, though, Gilpin and the others on his boat are fishing for something else.
"We're out here with the Department of Natural Resources to help them spread the control of the Asian Carp," Gilpin said. "We're laying trammel nets out and gill nets and catching as many of them as we can."
After laying their nets, the fishermen on Gilpin's boat and others work to scare the fish into their nets by revving their engines, banking their boats along shorelines and banging on the sides of their boats with golf clubs. Dozens of Asian carp jump out of the water around them, many landing inside the boats.
Helping out is Justin Widloe, a natural resources coordinator for the Department of Natural Resources who records their catch and other data.
"Because this is a commercial fishing boat, there's no legal commercial fishing in the Starved Rock pool or the Marcelles Pool where we fish, so … I make it legal by being here on the boat, but I'm also here to record the data," Widloe explained.
Gilpin said one boat can remove about 6,000 pounds of Asian carp in one day.
To develop a "unified method" to catch more of the carp, state DNR workers have met with commercial fishermen from other parts of the U.S. and from China.
"Fishermen are fishermen, wherever you go," said Kevin Irons, who traveled to China for the DNR. "We were sitting down in a meeting room and we had some people who only speak Chinese, and I only speak English … but once we started looking at the maps and talking about moving nets, it was just natural that these fishermen could talk to each other and understand the strategy of how to catch these fish."
Irons said that new unified method has proven successful; fishermen have used it to remove 80 percent of the carp from one lake.
Still, fishermen and conservationists face other challenges: what to do with the carp they harvest and how to make those harvests profitable for fishermen. We'll explore some answers in Part 3 of Fighting the Fish Wednesday morning on WAND Today.
For a look back at Part 1, click here.