Historic homes on the move in Arthur
Posted: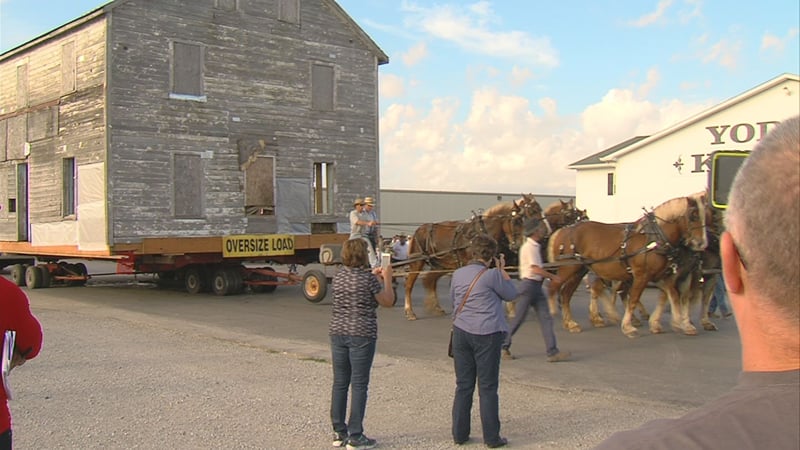 Crowds snapped photos and fought back yawns in Arthur Tuesday morning.
They watched as crews prepared to move two houses that each date back to the 19th Century.
"We heard about this, and my husband got me up at 5 o'clock to watch this," said one woman.
One of the houses was built by a Moses Yoder in 1866 and is considered the oldest surviving Amish house in Illinois.
"Moses Yoder was one of the first three Amish families that came to Illinois in 1865, and so it's very significant from an historic standpoint," said historic consultant Tom Vance.
The other house, which was built by a Daniel Schrock, dates to 1882. In recent years, both houses had been moved from their original sites to a space behind Yoder's Kitchen in Arthur in hopes of moving them to Rockome Gardens as part of an Amish museum. Those plans changed when Rockome Gardens was sold to become a wildlife park, and organizers decided to establish a new Illinois Amish Museum on a site west of Chesterville.
"We intend to have a complete farmstead there eventually with a barn, shop, outbuildings, and we have some other buildings already donated," said Wilmer Otto, president of the Illinois Amish Heritage Preservation Foundation.
Tuesday morning, crews moved the two houses to their new location, first with the help of a team of horses, then with trucks.
"It's an amazing process, even when you've done it before," Vance said.
Those working on the project say they have plenty of work ahead: restoring the houses, raising money for the museum and bringing it to life.