Sangamon Animal Control receives $450 donation
Posted:
Updated: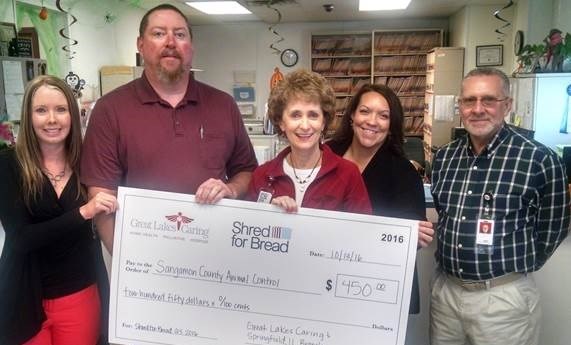 SPRINGFIELD – The Sangamon County Animal Control was presented a donation after Great Lakes Caring Home Health and Hospice of Springfield won it through the Shred for Bread program.
Shred for Bread is a company-wide program during which Great Lakes Caring employees are encouraged to visit their local branch and shred any confidential patient documentation they no longer need. The top three branches with the highest percentage of participation received the "bread" – a cash donation to a local nonprofit organization of their choice.
The Springfield branch won second place and chose to donate their prize to the Sangamon County Animal Control (SCAC).
Home Health Executive Director in Illinois, Lisa Skopick says SCAC handles a hefty task of handling the unwanted dog and cat population in Springfield and its surrounding areas, along with responding to calls for nuisance wildlife.
"They, as all government agencies, are working on tight budgets and minimal staffing. SCAC has a team of volunteers (the Friends of Sangamon County Animal Control) who work with animals to teach them some 'manners' in order to make them more adoptable. SCAC has also partnered with several no-kill shelters in the surrounding communities in order to increase the number of adoptions and reduce the pets that would normally be euthanized," Skopick explains.
Skopick adds that coming from an office of animal lovers, they are grateful to SCAC's efforts.
More information about SCAC is available on its website.