IHSA football playoffs: round two kickoff times and round one highlights
Posted: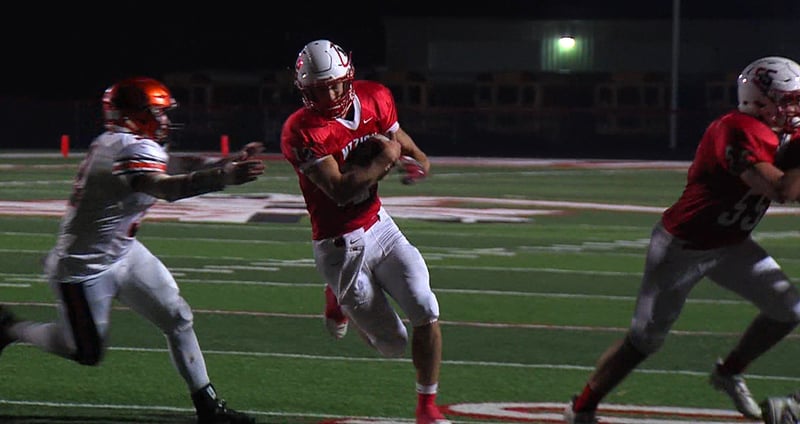 The second round of the high school football playoffs kick off Friday across central Illinois.
Check out all the local kickoff times below.
If you missed any of the first round action, click the videos above for all the highlights!
CLASS 1A
(4) Aquin (9-1) @ (12) LeRoy (7-3): Saturday, 3 pm
(6) Lena-Winslow (8-2) @ (14) Salt Fork (6-4): Saturday, 3 pm
(1) Tuscola (10-0) @ (9) Carrollton (7-3): Saturday, 2 pm
(2) St. Teresa (9-1) @ (10) Athens (7-3): Saturday, 1:30 pm
(6) Brown County (8-2) @ (14) Warrensburg-Latham (6-4): Saturday, 2 pm
CLASS 2A
(7) GCMS (8-2) @ (2) A.-Wethersfield (9-1): Saturday, 2 pm
(5) Maroa-Forsyth @ (4) Eldorado (9-1): Saturday, 1 pm
(2) Mendon Unity (9-0) @ (10) Shelbyville (7-3): Saturday, 2 pm
(6) B.-Henning (8-2) @ (14) St. Thomas More (7-3): Saturday, 2 pm
CLASS 3A
(8) PBL (9-1) @ (1) IC Catholic (10-0): Saturday, 4 pm
(6) Monticello (10-0) @ (3) Westville (10-0): Saturday, 2 pm
(8) Pana (9-1) @ (1) Newton (10-0): Friday, 7 pm
(5) Williamsville (9-1) @ (4) Carlinville (9-1): Saturday, 3 pm
(2) Mt. Carmel (10-0) @ (10) Tolono Unity (8-2): Saturday, 2 pm
(3) North Mac (9-1) @ (11) A.-Jonesboro (8-2): Saturday, 2 :30 pm
CLASS 4A
(1) Althoff Catholic (10-0) @ (9) Taylorville (8-2): Saturday, 4 pm
(5) Rochester (9-1) @ (4) Mt. Zion (9-1): Friday, 7 pm
CLASS 5A
(8) Eisenhower (7-3) @ (1) Peoria (9-1): Friday, 7 pm
CLASS 6A
(8) Danville (8-2) @ (1) Lemont (10-0): Saturday, 6 pm
(7) Galesburg (8-2) @ (2) SHG (10-0): Saturday, 1 pm