Guardsman repairs iconic WWI dog
Posted: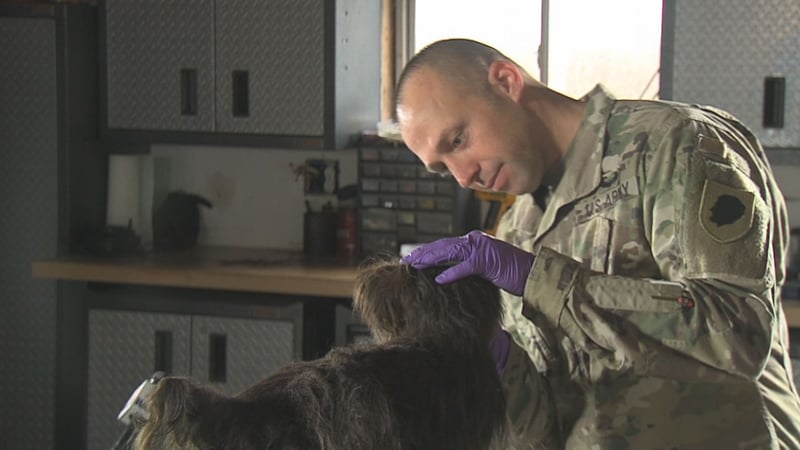 At a young age, Justin Lutz discovered a passion for hunting.
"I decided I wanted to put something on the wall and everything, so I got into doing taxidermy as a side job," Lutz said. "Everybody that hunts, fishes, they are really passionate about it normally, and I get to see that excitement, which is a lot of fun."
Lutz took taxidermy classes in Wisconsin and opened a shop in Findlay. But if taxidermy is his side job, serving in the Illinois National Guard is Lutz's day job.
"I joined the National Guard about fifteen years ago. I've been doing it full-time for about twelve now," Sgt. Lutz said. "I work in Decatur with the recruiting/retention command."
Lutz's work put him in contact with the Illinois State Military Museum in Springfield. They had a project that needed a taxidermist: a dog named Goldberg.
Goldberg, an Irish Terrier, was smuggled to France during World War One with the 122nd Field Artillery regiment as a mascot.
"He went over and was in the trenches with the men, kept the morale up," Lutz said. "I believe he got gassed with the men."
Historians say the dog was also hit with shrapnel and was injured while aboard a ship after the war. When he returned, newspapers reported that the dog was given an honorable discharge.
When he died of old age, those who cared for him had the dog stuffed in memory of his time with the unit. He was put on display at the armory, was featured at unit reunions and was eventually put on display at the Illinois State Military Museum in Springfield. But the decades have done damage to the dog. Now, Lutz is working to repair it.
"It's a lot more delicate. You have to take your time and be gentle, compared to a fresh, new specimen that you're working with," Lutz said. "It's pretty exciting. I'm pretty honored."
Lutz hopes to have the project finished by December.