Decatur groups gather for Giving Tuesday event
Posted: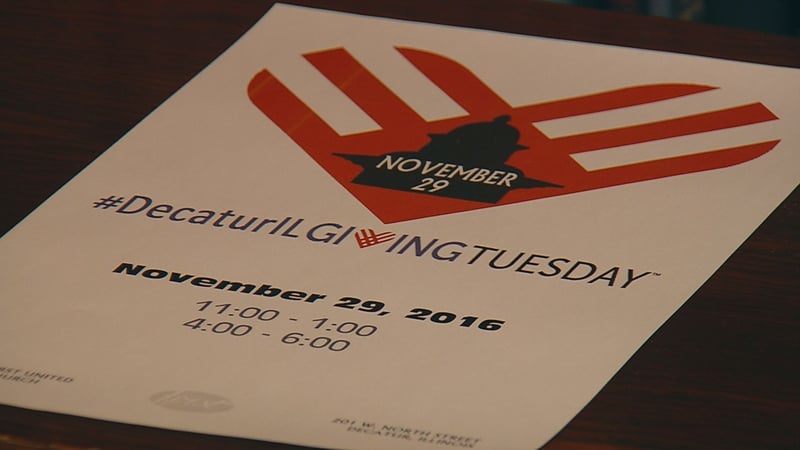 First United Methodist Church in Decatur is hosting two dozen non-profit organizations at a special Giving Tuesday event today.
Giving Tuesday is a five-year-old global movement that encourages giving and is held on the Tuesday following Thanksgiving and shopping days like "Black Friday" and "Cyber Monday." While some non-profits reach out to donors through special events or social media, First United Methodist is hosting 24 local organizations in the church's basement through the day and allowing visitors to meet with members of organizations and make donations.
"I'm familiar with craft fairs and bazaars, and I just thought if there were agencies or charitable organizations sitting behind those tables instead of us buying something for ourselves, we're handing them money so they can contribute to their good works," said organizer Jennifer Horton-Motter.
Horton-Motter developed the idea last year after reading discussions on social media about Thanksgiving, holiday shopping and other issues and feeling spiritually moved to do something constructive to help others. Last year's event at the church included 16 organizations and raised more than $13,000.
Administrative Secretary Barbi Gardiner said many organizations that participated last year were eager to return.
"The ones that we called that did it last year, most of them it was a no-brainer," Gardiner said. "Some of the newer organizations we called had never even heard of Giving Tuesday, because it is a fairly new global event."
Tuesday's event in Decatur runs from 11 a.m. to 1 p.m. and from 4 p.m. to 6 p.m. at First United Methodist Church at 201 W. North St.