Ryan Held Helps Launch GO! 217
Posted:
Updated: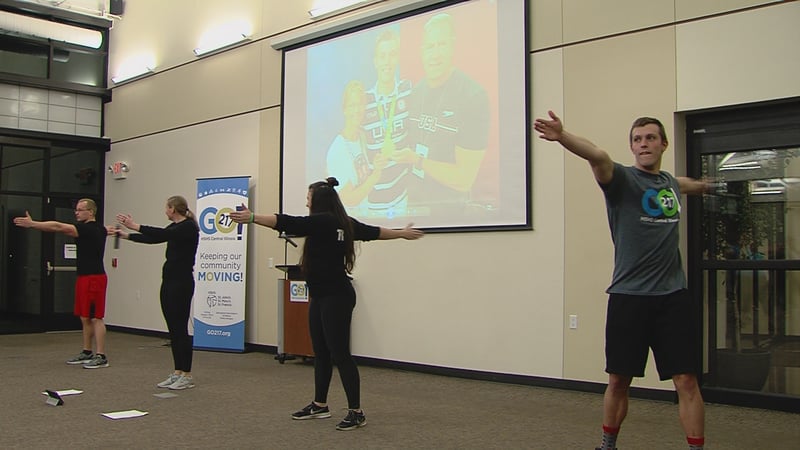 Springfield- Gold Medal Olympian Ryan Held was in Springfield helping to launch HSHS Central Illinois' new program GO! 217.
The new program is about getting residents in the 217 area code out and active to maintain a healthy lifestyle. "It's important to stay fit, stay healthy, have an active lifestyle and want to promote all those though this program." said Tom DeMare, a certified athletic trainer at HSHS St. John's.
The program will feature free workouts that will include a variety of workouts, including yoga, boot camp style classes and a variety of other group workouts to help encourage activity.
HSHS wanted to bring Ryan Held in to serve as an example of someone who lives an active lifestyle. "We want to make sure the kids and some of the parents that attend all have a role model to look after, as far as somebody who takes on a healthy lifestyle in the community." said DeMare.
Ryan Held was thrilled to be able to help launch the program in his hometown. "Healthy lifestyles are such an important thing and now with the statistics that more people are overweight, now I think it's a great thing that's in our hometown and Central Illinois, trying to make a difference and trying to engage people and have them live a healthier lifestyle." said Held. "I think it's a great program and initiative to kind of get the community to get into a more healthy and active lifestyle."
Held is hoping that others can use him as their inspiration to live a healthier life.
GO! 217 along with HSHS Central Illinois hospitals, is in partnership with Springfield Park District, YMCA Decatur, Scheels, Fit Club and Fit to Go. The monthly sessions will be held where HSHS hospitals are located, in Springfield, Decatur and Litchfield.
For more information about GO! 217 head to their website or their Facebook page.