Man makes miles-long walk in winter to help others
Posted: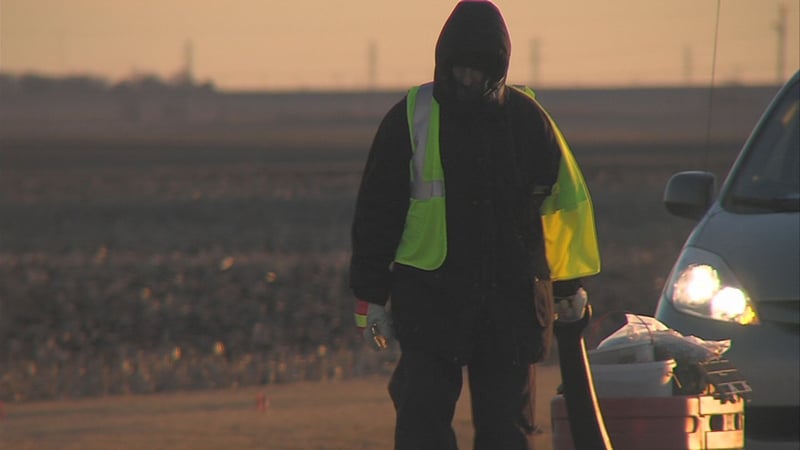 Phil Wright arrived at the Eldorado Street McDonalds around 3:30 Wednesday morning.
In the street lamp light, he pulled two plastic wagons from his family van and began loading them up with bags and crates of plastic pull tabs, the kind used to open soda or beer cans, depending on the drinker and the day.
"It's chilly, and it's going to be like that probably the rest of the day," Wright said. "I brought my warm clothes, and I'm going to try to stay as warm as I can."
Wright has a long journey ahead of him: he plans to walk to Ronald McDonald House in Springfield to donate the tabs. The charity recycles the tabs to help fund their work.
It's the second time Wright has made the journey on foot. Last time, the 48-mile trip took him about nine hours. It began with a wager.
"We made a bet one night in a bar; they bet me a hundred dollars that I couldn't do it or I wouldn't do it, and I bet them … I could do it," Wright said. "I like walking, and I feel I'm doing a good cause."
Since his last trip, Wright suffered an injury that kept him from repeating his journey sooner.
"I fell out of a tree," Wright explained. "Broke my ribs, my back. Busted my eardrum … It's taken me a while. I've had my ups and downs."
Wright left the McDonalds in Decatur around 4 a.m., walking along U.S. 36, followed by a van driven by his wife, Julie, and a police escort first from the Decatur Police Department, then from the Macon County Sheriff's Office. As the sun rose, Wright noticed drivers of cars and school buses wave as he passed.
During the 8 a.m. hour, he reached Illiopolis. The miles and the cold were already wearing on Wright.
"(I feel) cold, cramps," Wright said. "We'll wait and see how I feel."
Ultimately, Wright and his wife decided to drive to Ronald McDonald House. They arrived Wednesday afternoon, along with 78.2 pounds of pull tabs. Julie said Phil plans to try the walk again in the future, although he plans to try it in spring.