Parish nurses help bodies and souls
Posted: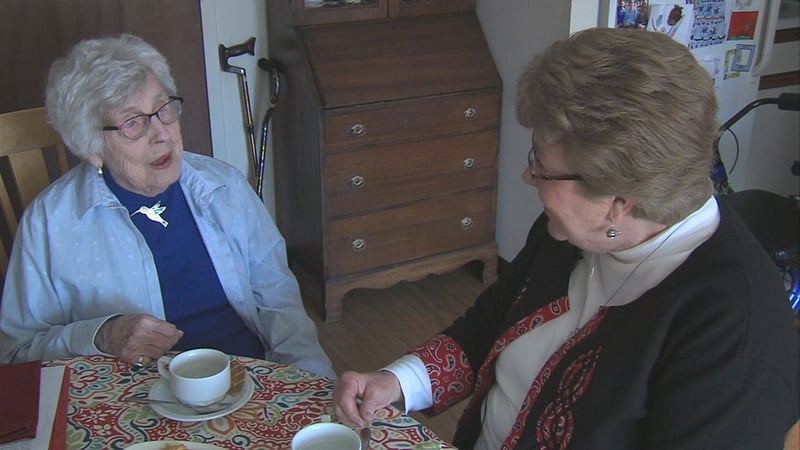 On a Thursday morning, Becky Hanson and Linda Morgan sit at Becky's kitchen table, sharing a plate of Belgian cookies, talking and occasionally breaking into song.
Every morning, every evening, ain't we got fun?
Becky lives at a retirement community in Urbana. Her visitor is Linda Morgan, a friend and fellow parishioner at Community United Church of Christ in Champaign. Visits between the two usually share a few staples.
"We drink," Becky says.
"Tea," Linda adds with a laugh. "We touch base, make sure everything's going okay."
"And we just have a good time. "Becky says.
Linda is a registered nurse and for more than 15 years, she has volunteered as a parish nurse, offering health education through her church and visiting parishioners to offer them company, prayer and help navigating medicine and health.
"Parish nursing is the best way to be a nurse, because you get to look at the whole person," Linda said. "You get to support them in body, mind and spirit."
Linda received special training as a parish nurse through Carle Health System. In recent decades, Carle has trained hundreds of nurses to work through their houses of worship, regardless of religious affiliation.
"It's not just about home visits," explained director Faith Roberts. "We have health fairs at churches focusing on the needs of that church. We do health fairs for adolescents, for young parents … We do blood pressures on the day of services."
Starting February 24, Carle is offering a new round of classes for registered nurses who would like to be parish nurses. Those nurses must register online at www.parishnurse.org or call (217) 326-2583. The deadline to register is February 10.