Springfield police using trauma kit donation
Posted: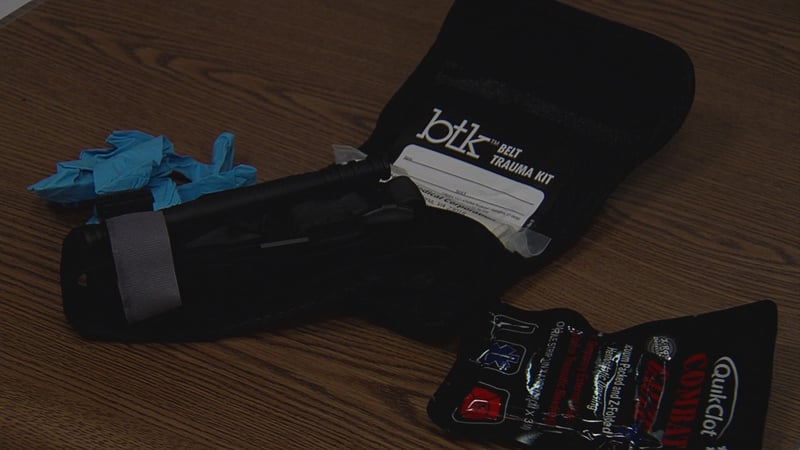 More than 150 special trauma kits donated to the Springfield Police Department in November have already been put to use by officers on several occasions, police say.
St. John's Hospital donated the kits, which include gloves, a tourniquet and combat gauze, out of a desire by those who work trauma cases to help other emergency workers.
"We consider all of public safety a big family, and this is a religious organization, and really, we take that to heart," said Dr. Kari Jerge, trauma medical director. "Our mission is to work in partnership with law enforcement to enhance survivability of traumatic injuries."
The kits allow users to treat bleeding while waiting for paramedics or other help. Jerge said that can be lifesaving.
"Once somebody starts bleeding, it sets off a cascade of problems that are almost impossible to fix," Jerge said. "If we can stop them from bleeding excessively, before they even get into the trauma bay, they have a much better chance of survival."
Sgt. Charles Kean said the primary purpose of the kits is for officers to treat trauma to themselves or other officers. Still, he said that, within weeks of training, officers had already used them to help others in several cases.
"We had one officer use his combat gauze on a stabbing, another one used his a week or two later on a gunshot wound, and another officer used his on a mangling dog injury," Kean said.
The donation of the kits is part of a broader national push called "Stop the Bleed," that aims to train first responders and others to treat bleeding injuries immediately.
"It's not unique, but it's new to us here in Central Illinois," Kean said. "We're hoping to get that ripple effect that's carrying out wider than just Springfield or Central Illinois."