Lively meeting over police suspension, resignation
Posted: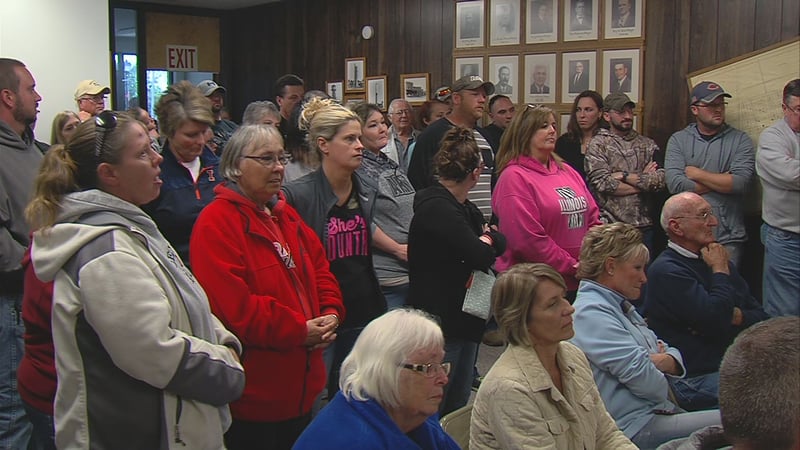 UPDATED with a statement from Chief Rob Maynard.
MOWEAQUA, Ill. (WAND)- Dozens of people packed into the Village Hall Monday, many pressing the town board for answers over the suspension of the town's police chief and the resignation of an officer.
Board members told the crowd they suspended Chief Rob Maynard for five days and that another officer, Chad Lamb, resigned.
Village attorney Ed Flynn said the city cannot give the reasons behind Maynard's suspension, although he did describe the background of the suspension as a "progressive issue."
"I have a release that (Maynard) could sign if he wanted to sign that release and make his personnel file public," Flynn said. "We'd be happy to open up and discuss those matters, but otherwise, the Personnel Records Act really forecloses us from spending a lot of time openly discussing that matter."
Board members also said they could not say whether Lamb was suspended when he resigned. The board voted Monday to accept Lamb's resignation, and they also discussed recruiting a new full time and a new part time officer.
Several people at the meeting spoke in favor of Maynard and Lamb.
"That's the people I trust, those two that are now sitting someplace that can't help me," one man said. "It kind of leaves my wife and kids and grandkids concerned."
Another man spoke up for the board.
"We don't know exactly what happened, so we're against the board. They know what happened," the man said. "Rob releases it and we find out its something bad for the community, things might change. Nobody knows the facts. You've got to know the facts before you can start an argument."
One man, who said he was a part-time Moweaqua officer, resigned and turned over his gear during the meeting.
Shelby County Under Sheriff Robert McCall told the crowd his department is adding patrols in Moweaqua.
"I have instructed the day-shift deputies that, if they are not busy on another call to be in your community, and at night, you are covered," McCall said.
Maynard released the following statement Monday night: