Man gets others out of bar before it collapses
Posted: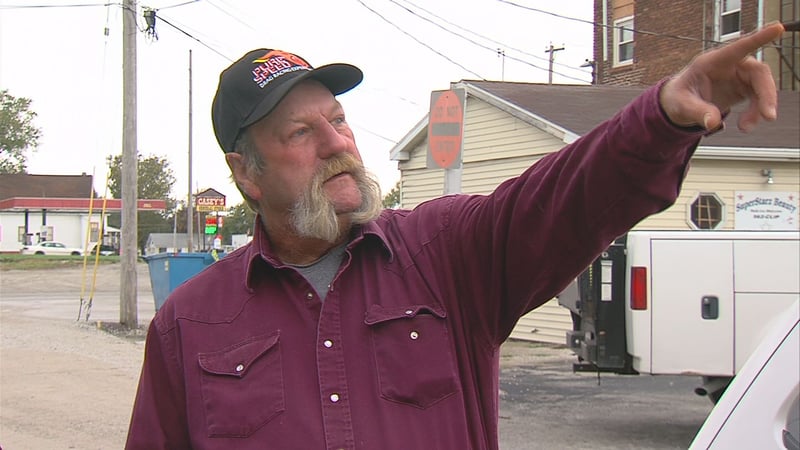 PANA, Ill. (WAND)- A demolition expert helped get several people out of a bar minutes before the building collapsed Monday.
Joe Coleman said he stopped into Tanners Pub late Monday and, while inside, heard a noise outside.
"I went outside and looked at the wall and saw it was bad," Coleman said. "I went back in and heard more bricks falling, so that's when I went and looked a second time. I called the owner and told him he needed to close the bar, because the wall was going to fall anytime."
Coleman said about ten people were in the bar; all left. About 15 minutes later, a portion of the building collapsed. Coleman caught the collapse on video and later toured the building with engineers and others.
"The pool room where the pool table was is full of debris, and the bathroom is completely full of debris," Coleman said Tuesday. "The stage area where they have karaoke supposedly tonight, it's completely collapsed in there too."
Fire Chief Rod Bland said firefighters were called out to the building on reports of a gas odor. Bland said blocks that fell off the building may have broken gas lines. He said firefighters shut off gas and electricity to the building.
City officials said they are trying to figure out who owns which parts of the building.
"We're still trying to determine who actually owns what part of it, but the part that fell was from the top part and fell into the bottom of the bar," Bland said.
"You want to make sure legally you can do what you're doing," said Mayor Donald Kroski. "We have a lot of absentee landlords, we have a lot of buildings in trouble downtown, taxes are not paid and a variety of things."
State highway officials shut down Illinois Route 16 in front of the building and the city is waiting for instructions on what to do next, Kroski said.
"Safety's a big issue," Kroski said. "I can't promise anybody when we're going to open up the road or anything else right now, because it's being left up to experts, engineers. These folks know what they're doing."
When asked by a reporter, Bland said buildings in Pana like the one that collapsed are not subject to regular inspection.
"Most of the codes for small towns are based on whatever is required by state law and so on, but as for building inspectors, we do not have that," Bland said.
"What we do when we inspect buildings is we try to get permission from the owner, and so far we've had pretty good luck," Kroski said. "We've had some buildings we'd like to go into, but the owner's said 'No, I don't want you in there.' So, we're going to handle that down the road."
Meanwhile, Coleman worries other old buildings could face similar fates.
"None of downtown will be left if the maintenance isn't done on the buildings," Coleman said. "It's my business taking them down, but you're still losing part of history, and Pana doesn't have much left … We need to save what we can."
Coleman estimated the building involved was built around 1900.