Students plant, study chestnut trees
Posted: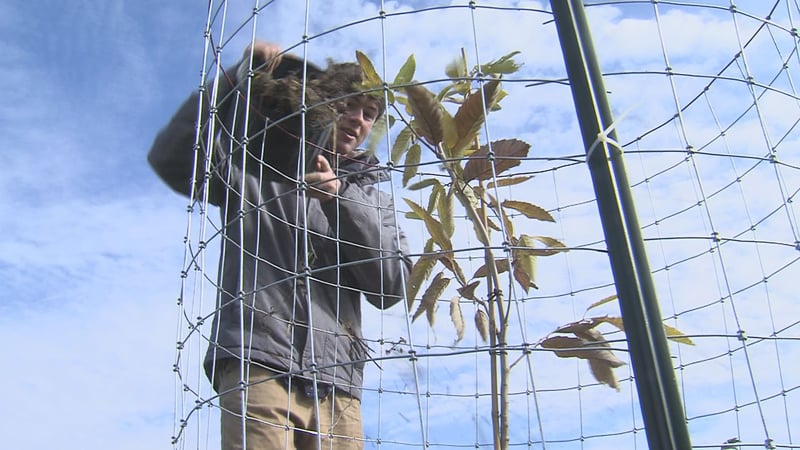 SHELBYVILLE, Ill. (WAND)- Students planted 35 chestnut trees Tuesday as part of a study on how varieties of chestnuts and hazelnuts perform locally.
Researchers at Eastern Illinois University are leading the project, in partnership with five central Illinois schools or districts: Shelbyville, Arthur Lovington Atwood Hammond, Paris, Casey-Westfield and Okaw Valley. Students at each school will plant orchards of chestnut and hazelnut trees, care for them and monitor their performance.
"We're really going to be training students at the regional high schools to do agricultural research," said professor Scott Meiner. "They'll be a resource for the students to do science projects. Eventually, they'll be able to collect the nuts and sell them."
The Lumpkin Family Foundation is funding the project, Meiner said. He said hazelnuts and chestnuts could be valuable crops.
"With Nutella … everybody wants hazelnuts and that sort of thing," Meiner said. "The chestnuts are … more in our nostalgic memory, but every time I roast chestnuts for people, they seem to get really excited."
Shelbyville science teacher Keith Endsley said the project allows his students to see science as an active pursuit.
"A couple students earlier today, they were planting a tree in the corner, and said 'Can we put our names on this tag?'" Endsley said. "So that's their tree, because they have ownership of it and they feel proud that they put that tree in the ground."
Endlsey said the students will plant hazelnut trees and additional chestnut trees in the spring.