December 27: Celebrating a health anniversary
Posted: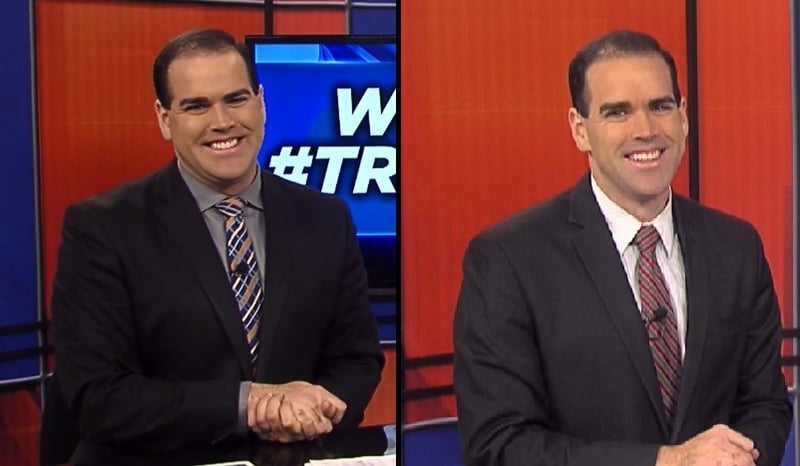 The image on the left (2016) and the one on the right (2017) we're captured exactly a year apart.
It happened again. In my belt-bursting, bowl-full-of-jelly, post-holiday revelry, I decided to step on the scale. It always seems like a good idea until it doesn't.
The number that stared back wasn't exactly what I wanted to see.
Like many people, I've reserved judgment of my own holiday-season snacking, chalking it up to a blip on the radar in an otherwise healthy year. Only, up until last year, my years weren't so "otherwise healthy."
I found that out the hard way a year ago this morning. I had avoided the scale for a long, long time, and when I checked in as "medically obese" (and not particularly close to simply "overweight") I knew I had to finally do something about it. I had an 18-month-old son, and a daughter on the way.
So, despite another year of December gains, allow me to celebrate an anniversary today. December 27: The day I finally actually did something about it.
As many of you know, through calorie-tracking, working through WAND's Spring Fit Challenge, and eventually taking part in a couple of local races, I worked 78 pounds off my frame in about five months.
No need to re-hash that whole story, which I know interested many of you enough to follow me via my Facebook page. For that, I thank you. Our social media statistics show that, while I don't have nearly the largest following in the market, I have some of the most engaged followers in our viewing area. The response in 2017 has been incredible.
At one point, I ditched the calorie tracking app, took up running regularly, and understood how to map out a day's worth of food for myself. As recently as this month, I was at the same weight at which I finished the Spring Fit Challenge.
Daily tasks stopped taking my breath from me. My wife says I stopped snoring, at least regularly.
I vowed not to let my newfound fitness spoil my fun, and it hasn't. Prime rib and turkey dinners for the holidays. Cookies and brownies baking in the kitchen. A little extra candy in the stocking? Sure.
Here on December 27, I'm feeling the effects of that.
I'm also feeling a lot of hope. The number I saw on the scale this morning wasn't what I wanted to see, but it's nowhere near what it was a year ago.
I look forward to a goal-filled 2018, with even more focus on my health, my family, and our future.