Quincy veterans home - State took no action on 2016 recommendation
Posted: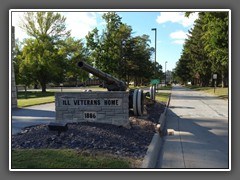 Springfield, Ill (AP & WAND) -- A report obtained by The Associated Press shows engineers told Gov. Bruce Rauner's administration in 2016 that replacing problematic plumbing at a veterans' home beset by Legionnaires' disease would cost $8 million, much lower than the estimate provided by state officials.
The report from Belleville-based BRiC Partnership said the changes "should be carefully considered." But the Illinois Department of Veterans' Affairs took no action on the August 2016 recommendation for the Quincy home. Legionnaires' disease -- borne by infected water vapor -- has led to 13 deaths there since 2015.
Veterans' Affairs Director Erica Jeffries has said the report estimated replacement at up to $30 million.
Jeffries' spokesman Dave MacDonna says officials have followed experts' advice at Quincy.
Emails obtained by the AP show the agency made an "emergency" request last month to replace plumbing.
State Senator Andy Manar, (D) Bunker Hill, is among a bipartisan group of senators voting for a resolution (Senate Resolution 1186) demanding an audit of the Rauner administrations handling of the deadly Legionnaires' outbreak.
"It's a horrific situation. Losing the lives of 13 veterans. That's tragedy right there," Manar told WAND's Doug Wolfe in Carlinville. "We ought to be working together to make sure that the situation in Quincy is rectified as soon as possible so that the bacteria doesn't spread and so that we don't lose more precious lives of our veterans."
Lawmakers have been forced to file Freedom of Information requests to obtain information as to how the administration has handled the Legionnaires' outbreak. The head of the Department of Public Health may also be on the hot seat when senate appropriations committee hearings begin in the coming weeks.
(Combined stories of the AP & Doug Wolfe, WAND TV)