One-on-one with Whitman, and Newman's notes from media roundtable
Posted: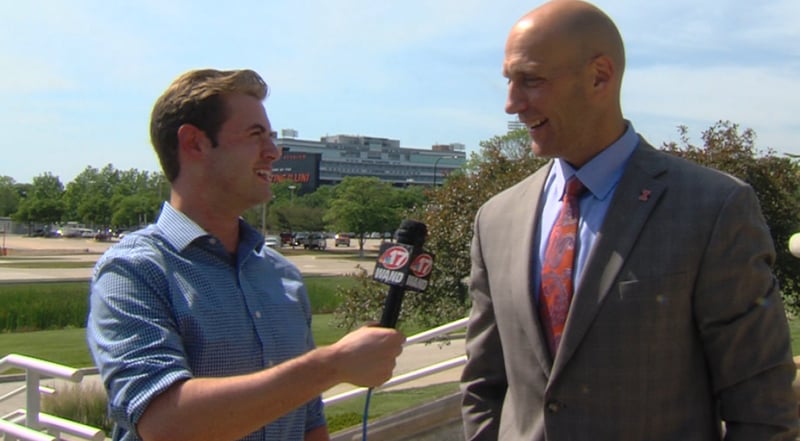 VIDEO ABOVE: Noah Newman goes one-on-one with Josh Whitman
CHAMPAIGN -- Illinois athletic director Josh Whitman held a special roundtable discussion with select media members Wednesday.
WAND's Noah Newman attended, here are his notes from the discussion:
-Whitman says these summer months are big. No time off. They need to keep the foot on the gas to make up ground, and close the gap with competitors.
-Whitman's first year was about people, building culture. Second year was about plans, development, generating resources. The upcoming year is about progress.
-Fundraising: They have been out extensively generating resources for projects, and are excited about the response. 1700 donors have increased their donations. First time since 2007 they've seen consecutive years of growth.
-Baseball/softball: The department is focusing more on player development, not stadium development. They're planning to build large practice spaces adjacent to the locker rooms. Project could cost 5-6 million for softball, and 18 million for baseball.
-Whitman is "awestruck" at the potential they have at the University of Illinois. Unlimited potential. They believe they can be great.
-D1 Hockey is starting to sound like a real possibility. Not a matter of if, but when. The multi-sport arena that comes along with it would be located downtown. It would move them outside of the university bubble. New arena would house several additional sports including volleyball, gymnastics, and wrestling. It would be a 2-3 year process, and would cost somewhere in the 50-60 million dollar range.
-Football: Staff made major strides in recruiting. They're now competing with and in some cases beating major programs. New indoor facility (currently under construction) will be a game changer.
-Basketball: Took a step forward in the culture and competitiveness departments. They will play a home conference game at the United Center next season.
-Rebuilding: Football has caught up, reached the "starting line". Basketball still has work to do.