Lawmakers want answers on emergency pharmacy funding
Posted: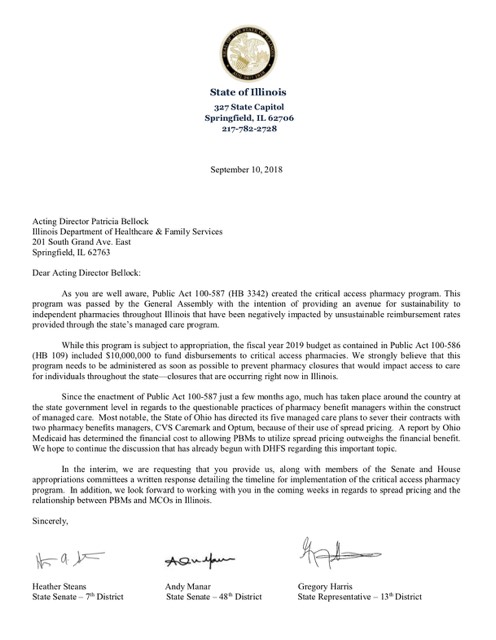 SPRINGFIELD, Ill. (WAND) – State Senator Andy Manar, (D) Bunker Hill, and two other Illinois lawmakers are demanding answers from the Rauner administration concerning funds for critical access pharmacies.
The legislature created the critical access pharmacy program (Public Act 100-587; HB 3342) with the intention of providing funds for the sustainability of independent pharmacies that have been negatively impacted by reimbursement rates through the states managed care program. The new managed care program started April 1, 2018. Since that time several pharmacies throughout the state have closed including pharmacies in Mt. Zion and Lincoln.
A September 10, 2018 letter was sent to Patricia Bullock, Acting Director of the Illinois Department of Healthcare & Family Services, seeking an explanation as to why the program has not been implemented. The letter from Senator Manar, Senator Heather Steans, (D) 7th District and Representative Gregory Harris, (D) 13th District, reads in part:
"While this program is subject to appropriation, the fiscal 2019 budget as contained in Public Act 100-586 (HB 109) included $10,000,000 to fund disbursements to critical access pharmacies. We strongly believe that this program needs to be administered as soon as possible to prevent pharmacy closures that would impact access to care for individuals throughout the state – closures that are occurring right now in Illinois."
The letter goes on to say the state of Ohio has directed its five managed care plans to sever their contracts with two pharmacy benefit managers (PBMs), CVS Caremark and Optum, because of their use of spread pricing. PBMs are the middleman between pharmacies and insurance companies. They have been accused of reimbursing independent pharmacies at extremely low levels frequently below the cost of dispensing a prescription.
WAND News has produced three stories on this subject. The links are here:
https://www.youtube.com/watch?v=hQUxLhZxlf4&t=1s
and here:
https://www.youtube.com/watch?v=d9VvMR5vbRE
The lawmakers are seeking a written response detailing a timeline for implementation of the critical access pharmacy program. WAND News received the following response from John Hoffman at IDHFS:
Doug --
In following recently enacted state law, the Department has been working with stakeholders to establish this new program in a way that will ensure it offers as much assistance as possible. We are developing program guidelines within the timeline of the formal rule-making process that needs to be followed and will be communicating with affected pharmacies as the process moves forward.
John