Vice President Pence stumps for Davis
Posted: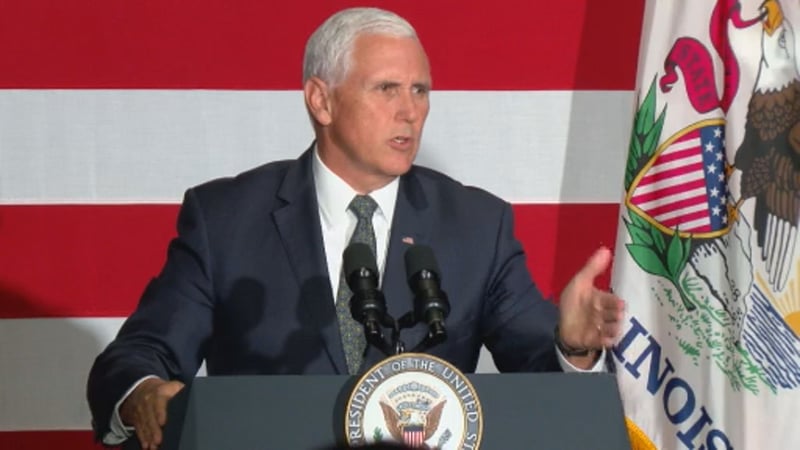 SPRINGFIELD, Ill. (WAND) - The race between incumbent Rep. Rodney Davis and challenger Betsy Dirksen-Londrigan could decide control of the U.S. House of Representatives, Vice President Mike Pence told a crowd in Springfield Friday.
The Vice President spoke at a Davis campaign event at the Panther Creek Country Club Friday afternoon.
"Illinois 13 may be the district that decides whether we have a Republican majority or whether Nancy Pelosi is speaker of the House in the next Congress," Pence told the crowd.
The Vice President said Davis had pushed for year-round sales of E-15 to help local farmers and had "strengthened President Trump's hand" in negotiating a new trade agreement with Canada and Mexico. He also addressed Davis's role in debating healthcare policy, a point of contention in the campaign.
"While we were trying to repeal and replace Obamacare ... Rodney Davis was in there every step of the way ... but every step of the way, Congressman Rodney Davis made it clear that, as we repeal and replace Obamacare ... we will always protect Americans with pre-existing conditions."
In a statement after the speech, Londrigan's campaign said Davis had called in "reinforcements to help bail out his campaign."
"(Illinois voters) know Rodney Davis voted to gut protections for people with pre-existing conditions, kick tens of thousands of Illinoisans off their health care, and that his tax scam blew a two trillion dollar hole in the deficit."
Protestors also gathered nearby.
"What's really important is Rodney's record," said Jim Dixon of Springfield Call to Action. "Rodney's record is not friendly to people in the 13th district. He's voted consistently against people with pre-existing conditions."
Pence ended his remarks by addressing deep divisions in the country and calling for prayer.
"Abraham Lincoln was asked if he thought God was on his side. He said, in essence, 'I don't concern myself so much with whether God is on our side as with whether we're on God's side,'" Pence said. "So let's pray for the American people. Let's pray for all the American people."
Pence also said the administration has been following the damage of Hurricane Michael and is working with federal and state officials to help the region recover and rebuild.